What the Rich and Famous Carry in Their Wallets
Image source: Getty Images The rich and famous love their black cards. Key points Some…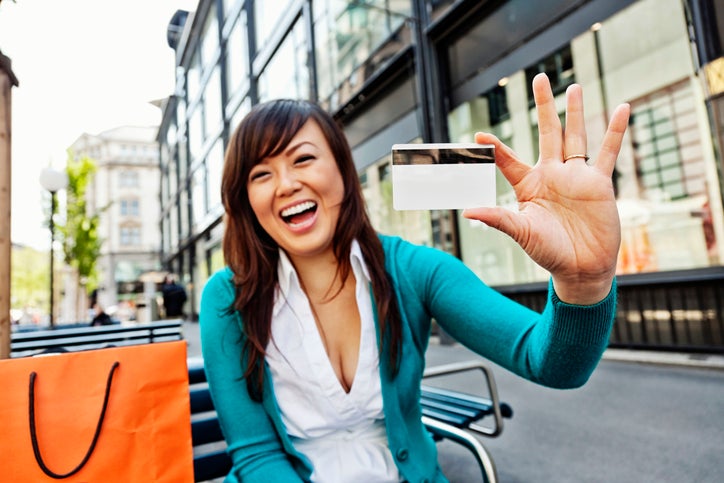 The rich and famous love their black cards.
---
Key points
Some celebrities use invite-only credit cards, with the American Express Business Centurion Card being a popular choice.
High-end credit cards have different types of benefits, like private concierge services and elite status with airlines and hotels.
---
The idea of a celebrity filling out a credit card application probably seems hard to believe. Although I imagine personal assistants often handle that part, many celebs use credit cards to pay for purchases, just like the rest of us.
But which credit cards are they using? That's trickier to pin down. While some celebs star in advertising campaigns for specific credit cards, that doesn't necessarily mean they use those cards. However, there has been some nuggets of information throughout the years about famous people using certain cards.
Credit cards used by the rich and famous
If there's one card most associated with celebrities, it's the American Express Business Centurion Card, often referred to as the Amex Black Card. It's an invite-only card, and although you don't need to be famous to get it, the spending requirement for an invite is rumored to be at least $250,000 per year.
Discover: This card has one of the longest intro 0% interest periods around
More: Consolidate debt with one of these top-rated balance transfer credit cards
Numerous celebs use this American Express card, but Jerry Seinfeld deserves a special mention here. The comedian appeared in American Express commercials in the '90s, and he claims to have been given the first Amex Black Card. American Express has neither confirmed nor denied the rumor.
Other rich and famous people known to use an American Express Business Centurion Card include:
Beyonce
Oprah
Mark Cuban
Sean Combs
John Mayer
There are also celebs and public figures who carry different credit cards. Here are some examples:
Former President Barack Obama was seen using the JP Morgan Select Card in 2014. That card was retired in 2016, and cardholders were transitioned to the Chase Sapphire Preferred® Card.
Actor Michael B. Jordan appears in a Chase advertising campaign that references his Chase Sapphire Reserve®. He may not actually use the card, but the campaign has more of a personal touch than the standard celebrity credit card pitch.
Two members of South Korean boy band BTS, Jin and Jungkook, each use a Hyundai The Black Card. This is one of the most popular luxury credit cards in South Korea.
What do high-end credit cards have to offer?
When you hear about the invite-only, exclusive credit cards that celebs and the ultra-rich carry, it's natural to wonder what types of benefits they have. There typically aren't a lot of confirmed details on very high-end cards. They don't always have web pages available with a convenient list of all their perks.
However, there's enough information out there to get an idea of the features that are common to these types of credit cards. They just about always have a private concierge for clients. This tends to go far beyond the standard credit card concierge service. With high-end cards, a concierge could help with almost any request imaginable.
It's also common for luxury credit cards to include elite status with multiple airline and hotel loyalty programs. This isn't complimentary silver status, either. When these cards offer complimentary elite status, it's in one of the program's highest status tiers.
Rewards, on the other hand, are usually nothing special. In fact, the rewards credit cards that are available to anyone often earn as much or more as the most exclusive cards in the world. That makes sense, as people with an extremely high net worth normally aren't too concerned with maxing out credit card rewards.
You're not missing out
High-end credit cards might seem like the best of the best, but that's not entirely true. Many of the benefits that these cards offer wouldn't be valuable to everyday consumers. For example, a private concierge service is going to be most useful for big spenders. For everyone else, it might come in handy once in a while, but it's probably not a must-have.
Some of their perks, such as elite airline and hotel status, would certainly be nice to have. You can get elite status with certain travel credit cards, though. You don't need an exclusive card to get status with your airline or hotel of choice.
Many celebs use more exclusive credit cards than what's available to the general public. This may be for the lifestyle benefits those cards offer, although in some cases, it could also be because certain cards are status symbols. Fortunately for those of us who haven't gotten invites to these cards, there are plenty of other great credit cards that anyone can apply for.
Top credit card wipes out interest until 2024
If you have credit card debt, transferring it to this top balance transfer card secures you a 0% intro APR for up to 21 months! Plus, you'll pay no annual fee. Those are just a few reasons why our experts rate this card as a top pick to help get control of your debt. Read our full review for free and apply in just 2 minutes.