Use This Secret Password at Kimpton Hotels to Unlock Extra Perks Through Feb. 20
Image source: Getty Images A freebie could make your next hotel stay even better. Key…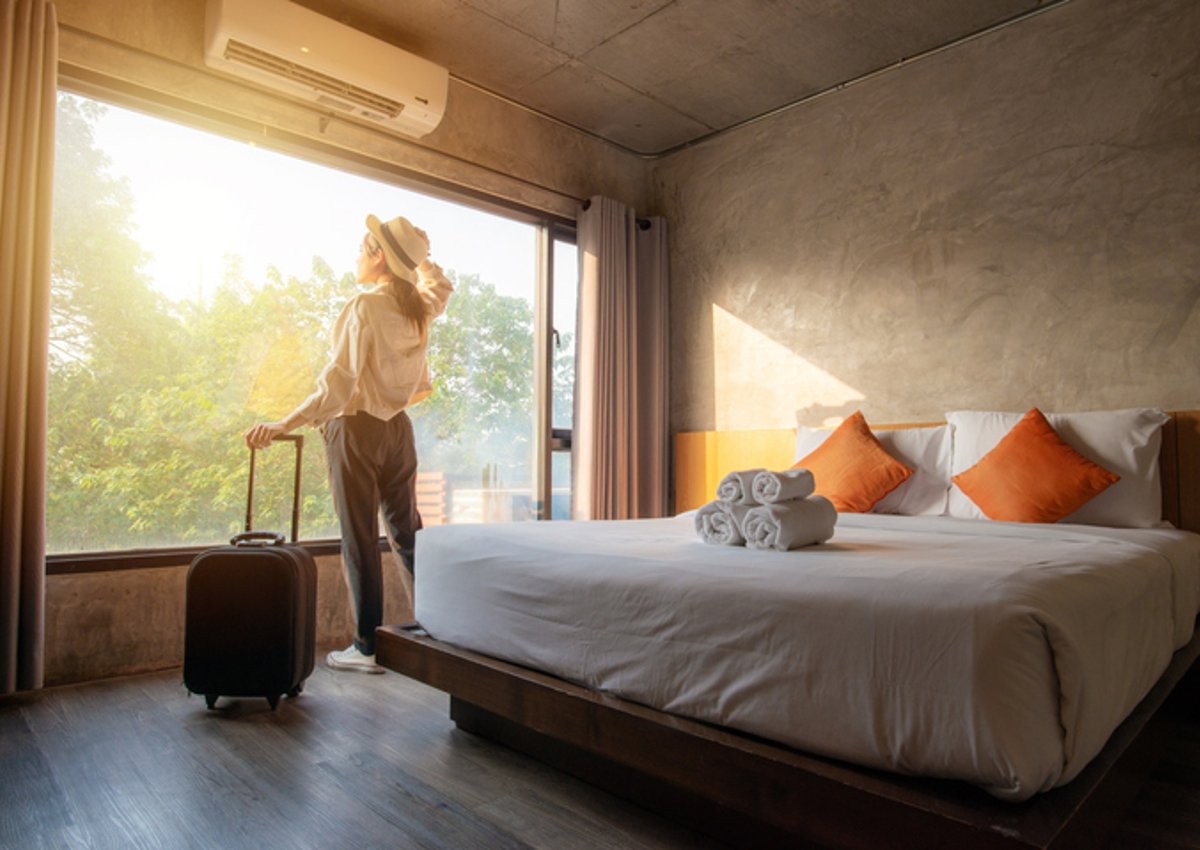 A freebie could make your next hotel stay even better.
---
Key points
Kimpton Hotels announces secret passwords throughout the year that guests can use to unlock free perks at check-in.
Free breakfast, drink vouchers, and room upgrades are some of the freebies the brand is known for giving guests.
---
If you're traveling soon and plan to stay at a Kimpton Hotels property, you can score a free, valuable freebie. All you have to do is say the secret password at the check-in desk. Keep reading to learn the current secret password and learn more about what freebies you can earn. You can make your stay even more memorable by putting the password to use.
Kimpton Hotels goes above and beyond
Kimpton Hotels & Restaurants is a boutique hotel brand. The chain is known for doing things a bit differently than other hotels. How so? Kimpton Hotels is pet-friendly, doesn't charge pet fees, has yoga mats available in each guest room, and offers an evening happy hour. Some properties also have hotel-specific extras to make your stay better.
The brand is also known for offering freebies to guests who say the secret password. The password changes seasonally, so you must keep up with the latest password to get free perks. Kimpton Hotels announces the latest password through social media. This is just another unique touch that makes the popular travel brand stand out.
Discover: This card has one of the longest intro 0% interest periods around
More: Consolidate debt with one of these top-rated balance transfer credit cards
Say "the snuggle is real" at check-in
Now through Feb. 20, 2023, the Kimpton Hotels winter password is "the snuggle is real." Don't forget to say the password during check-in. Otherwise, you'll miss out on a free extra. Free perks vary by property.
Some examples of potential perks include:
Free bottle of wine
Room upgrade
Free parking
Drink vouchers
Free breakfast
The secret password program makes for an easy way to upgrade your next trip without spending extra money. Freebies like free parking, complimentary breakfast, and free drink vouchers can help you stretch your vacation budget further and could improve your stay.
Four tips to save on your next hotel stay
Booking a hotel for your next vacation? Don't miss out on opportunities to keep more money in your pocket. These tips may help you save money on your stay:
Join the hotel's free loyalty program: Don't miss out on valuable perks offered to loyalty members. By joining the hotel's loyalty program, you may get a cheaper rate when booking directly with the hotel. You may qualify for other perks as a rewards member, too.
Use price comparison tools to find a better deal: Many online tools make it easier to find cheap travel deals. Use price comparison tools to research prices before deciding which hotel to book.
Book a refundable reservation and monitor prices: If you're booking far in advance, it can be beneficial to book a refundable reservation early on and then monitor prices as you get closer to your check-in date. You may be able to find a lower price and rebook at the lower rate.
Don't wait to book: If you book a hotel at the last minute, you'll likely pay a much higher price than necessary. It's best to book earlier if you want an affordable rate.
If you're making travel reservations, using travel rewards credit cards is an excellent idea. You can earn valuable points and miles, which you can later redeem for free travel. Take a look at our list of best travel rewards credit cards to learn more.
Top credit card wipes out interest until 2024
If you have credit card debt, transferring it to this top balance transfer card secures you a 0% intro APR for up to 21 months! Plus, you'll pay no annual fee. Those are just a few reasons why our experts rate this card as a top pick to help get control of your debt. Read our full review for free and apply in just 2 minutes.