Use This Hotel Chain's Secret Password at Check-In Through Sept. 5 for a Free Perk
Table of Contents Key pointsStay cool this summerThese tips can help you get more out…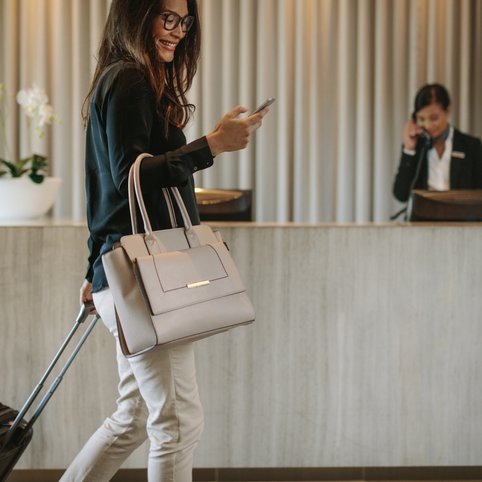 The latest Kimpton social password could score you a freebie during your next hotel stay. 
---
Key points
A secret password could unlock a free hotel perk.
Find out what the current Kimpton social password is so you can use it to get a free perk that will surely help you enjoy your stay a bit more. 
---
People are traveling in record numbers after primarily staying home during the early months of the pandemic. If you're planning to take a getaway this summer, you could get a free perk if you book with the right hotel chain. One boutique hotel brand offers freebies to guests who say a password during check-in. Find out what you need to know before your next trip begins. 
Kimpton is a boutique hotel brand with locations throughout the United States and the rest of the world. The company is known for providing unique perks at many of its properties. Some examples include free bike rentals, in-room yoga mats, pet-friendly rooms without pet fees, and complimentary coffee available in the hotel lobby. 
Extra perks and unique amenities can make your vacation more enjoyable and can help you save money so your vacation budget funds stretch further. 
But Kimpton also does something else special. The brand announces social passwords throughout the year on its social media accounts. The correct password unlocks extra perks.   
You have to keep an eye on their social media accounts to know the latest password. You can score a freebie when you give the secret password at check-in. 
Stay cool this summer
Are you staying at a Kimpton Hotels property in the coming weeks? The current secret password is "stay cool." You can get a freebie if you provide this password at check-in through Sept. 5, 2022. 
What freebie could you get? It varies, and it's not the same for everyone. Some examples of perks that travelers have gotten in the past include free daily breakfast, complimentary drink vouchers for the hotel bar, and free parking.  
If you're planning to stay at a Kimpton property soon, make sure you remember to say "stay cool" at the check-in desk. If you're not traveling in the coming months, keep an eye out on Kimpton's social media posts for future social passwords. 
No matter what freebie you get, it will likely put a smile on your face and make your stay memorable. 
These tips can help you get more out of your next hotel stay
When booking a hotel, you can take steps to maximize the value you get out of your stay. Like other costs, travel is getting more expensive, so you want your money to go far. 
Compare hotel rates. Before booking a stay, compare prices online. You may be able to save money by booking directly with the hotel or reserving through a hotel booking portal. Book a fully-refundable stay and keep an eye on the prices leading up to your trip. If you find a lower price, cancel and rebook at the lower rate. 
Put the hotel's perks to use. If your hotel offers extra amenities, put them to use. You're paying for these amenities when you pay your nightly rate, and in some cases, you may even be paying additional resort fees, so don't let the amenities go to waste.
Plan some time to relax. It's always nice to unwind after a long day of exploring. As you work out your travel itinerary, plan to enjoy some hang out time at the hotel. You're paying the same amount of money for your stay whether you spend a lot of time at the hotel or not — so you might as well spend a bit of time there.  
Don't miss out on hotel amenities that could improve your travel experience. If you stay at a Kimpton property, give the social password to score an extra perk for free. 
When using a travel credit card to book your next vacation so you can earn rewards. Check out our best travel rewards credit cards list to find your next card. 
Top credit card wipes out interest until 2023
If you have credit card debt, transferring it to this top balance transfer card secures you a 0% intro APR into 2023! Plus, you'll pay no annual fee. Those are just a few reasons why our experts rate this card as a top pick to help get control of your debt. Read our full review for free and apply in just 2 minutes.