Start Saving Credit Card Points Now for the Post-Pandemic Trip of a Lifetime
You could have enough points and miles to cover a vacation by the end of…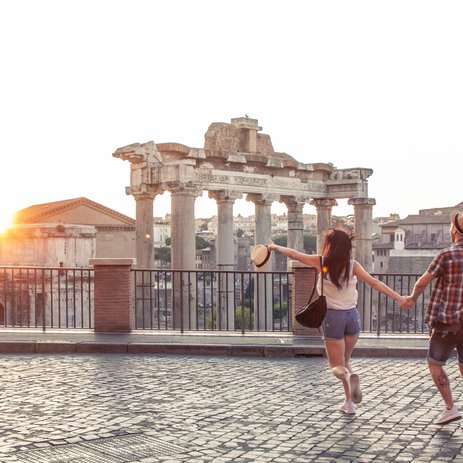 You could have enough points and miles to cover a vacation by the end of the year.
If 2020 left you with a serious case of cabin fever, now's the time to start planning the post-pandemic trip of a lifetime. Get started now, and you might be able to pay for most of it with credit card points.
Earning credit card rewards takes time. However, with the right strategy and the best travel rewards credit cards, you can be well on your way to earning a free vacation by the end of the year. Here's how.
Choose a rewards program
The first step is to choose a travel rewards program or two that you want to focus on. It's wise to have an idea of what kind of vacation you want to take — where you want to go, what type of accommodation you want — before picking a program. That way, you can make sure the rewards you're earning can actually be used for the trip you have in mind.
There are generic rewards programs like Chase Ultimate Rewards, American Express Membership Rewards, Capital One Venture Miles, and Citi ThankYou Points. With these programs, you earn points that can be redeemed for a variety of travel purchases, including flights, hotels, and rental cars. You're not locked in to being loyal to one airline or hotel chain.
Alternatively, if you tend to fly with the same airline or stay with the same hotel chain, you can opt for a brand-specific rewards program. These are programs like Delta SkyMiles, American Airlines AAdvantage, Hilton Honors, and Marriott Bonvoy. You'll earn rewards faster when making purchases with the brand you pick, and most of the time, you'll have to redeem your rewards with that brand. These programs offer less versatility than a generic rewards program, but if you stay brand-loyal, they can help you accumulate rewards faster.
Pick a credit card
Once you've decided on a rewards program that matches up with your travel plans, you'll want to pick a credit card.
You can opt for a travel credit card with no annual fee, but you probably won't earn rewards very quickly. Some of this year's best credit cards to earn miles charge a modest annual fee, but they make up for the fee by offering big welcome bonuses and higher earn rates.
Many of the best airline credit cards offer bonuses big enough to get you a free roundtrip flight (or even two), and there are plenty of cards that get you free nights at luxury hotels.
When choosing a credit card, look for one that aligns with your spending habits, and make sure you can earn enough rewards to offset the annual fee. While it's not the only factor worth considering, a big sign-up bonus can instantly boost your rewards-earning potential, as some of the best sign-up bonus credit cards can get you $750-plus toward travel. Just make sure you can meet the minimum spending requirement to get those bonuses.
Combine multiple credit cards to supercharge your earnings
If you really want to cover most of your vacation with credit card rewards, you're probably going to have to get more than one credit card.
Most generic travel rewards programs also offer transferable points, meaning you can transfer them to a long list of airlines and hotel loyalty programs that partner with the credit card issuer. If you get one of these generic travel credit cards, look at the list of transfer partners and get a brand-specific credit card from one of those partners. For example, Chase Ultimate Rewards points can be transferred to United MileagePlus at a 1-to-1 rate. You can combine an Ultimate Rewards–earning credit card with a United credit card to double up on your earnings.
If you're traveling with another adult, they can also open a rewards credit card or two to start earning points toward your vacation. Many rewards credit cards even have referral programs, so if you open the card first and then refer your travel buddy, you can double your sign-up bonus and earn a referral bonus.
While there are drawbacks to opening too many credit cards — such as taking a hit to your credit score — opening two or three in a year will likely only cause a slight, temporary dip in your credit score. After all, your credit score begins to recover from new inquiries within a few months, and those inquiries stop impacting your credit altogether after one year. A good rule of thumb is to limit yourself to no more than two credit applications at once and wait at least three to six months before starting another round of applications. If you plan to finance a major purchase like a car or house within the next two years, you should hold off on credit applications altogether.
The most important thing is to avoid falling into credit card debt while stacking rewards. If you have trouble juggling multiple payment due dates, stick to one credit card for now. Always pay your balance in full each month so you don't end up paying interest. If you end up carrying a balance, the interest fees you'll have to pay will easily outweigh any rewards you earn.