Nomatic and Peter McKinnon Launch Three New Everyday Bags
Nomatic is expanding its partnership with photographer and social media influencer Peter McKinnon with three…
Nomatic is expanding its partnership with photographer and social media influencer Peter McKinnon with three new bags launching as part of a collection on Kickstarter. Nomatic says these new additions are a "smaller, sleeker, everyday line of bags."
The three new McKinnon offerings are the 25L Camera Backpack, an 8L Camera Sling, and the Camera Tech Organizer. These three bags join the original Peter McKinnon Camera Pack that raised $2.2 million last year to form what the company calls a full collection of camera-focused carrying options.
The company says that the collaboration with McKinnon resulted in backpacks that have a level of customization that will "blow your mind," at least according to Jon Richards, the Co-Founder of Nomatic. He also adds that teaming up with McKinnon immediately gives potential customers a sense of trust.
The backpack uses a tried-and-true removable camera cube concept, not at all different from the original Camera Pack that was successfully sold in 2020. Citing the ability to move the pack in and out of the main bag, Nomatic says that the camera pack system can further stand up to the rigors of travel and that it will "empower photographers to capture life's moments."
While it is always a challenge to create a bag that will work for every type of photographer in every situation — some might argue that is impossible — Nomatic claims that the 25L Camera Backpack can do just that: meet the need of everyone with its ability to switch from a full photography arrangement into a "perfect" backpack for everyday use with no camera gear.
"The number one feature is customization with the cubes, dividers, and the adjustable ladder system giving users unlimited possibilities," the company claims.

It also has multiple access points: from the top, an external laptop sleeve, a back that fully opens, and a magnetic door to pull gear from the back. It also has a water bottle pocket (that also can work with tripods), water-resistant materials and zippers, multiple handles and straps, EVA molded back padding, and roller luggage pass-through.
Nomatic says that the Camera Sling 8L offers the same high-quality materials and comfort but is sized to carry a much smaller load. It has a quick-access shock cord closure designed to be used with one hand (while holding a camera in the other) and features a rigid wireframe construction and latch system that Nomatic says will make accessing and closing the bag easy.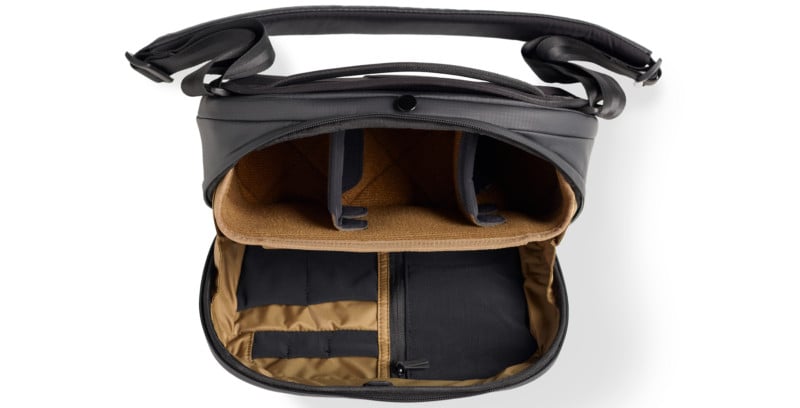 Additionally, the new Camera Tech Organizer features water-resistant materials and zippers while also offering a set of "meaningful" pockets and organization methods to help manage items like SD cards, cords, card readers, action cameras, chargers, adapters, lighting, and other small pieces of kit. The Tech Organizer is similar to the one that Peak Design offers along with its Travel Backpack. While that bag had multiple flaws, that tech pouch was the best thing about it, and Nomatic seems to have taken notice.
The Tech Organizer is being offered for as low as $59, the Camera Sling for $139, and the Backpack for $199. Each of these prices are the lowest you'll find as part of the Kickstarter, with the final MSRP at $69, $149, $249 respectively. You can look at all the options on the company's Kickstarter page.
---
Disclaimer: Make sure you do your own research into any crowdfunding project you're considering backing. While we aim to only share legitimate and trustworthy campaigns, there's always a real chance that you can lose your money when backing any crowdfunded project.