Kroger Rewards World Mastercard Review
While the Mastercard and gas benefits make this card worth looking into, the overall rewards…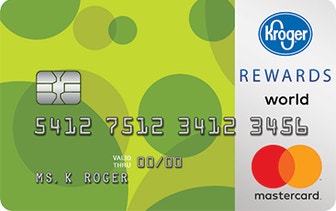 While the Mastercard and gas benefits make this card worth looking into, the overall rewards may be too minimal for most.
Snapshot
Bottom line
The Kroger World Elite Mastercard is a straightforward, no-frill rewards card that rewards loyal customers. While cardholders can earn cash back outside of Kroger and associated stores, it's most beneficial to those who use mobile wallets and fuel up at Kroger gas stations. That being said, it may not be the best all-around card to have, even for frequent Kroger shoppers.
Kroger Rewards World Mastercard®
Regular APR
11.99% – 23.99% Variable
Kroger Rewards World Mastercard® Overview
The Kroger Rewards World Mastercard® offers tiered points geared toward purchases made in Kroger stores and on Kroger-brand products. While the card comes with the benefit of no annual fee and the potential to save big on gas at Kroger-owned gas stations for the first year, the point structure and earning potential are a bit haphazard.
Put simply, if you're an avid Kroger shopper, this card may be a great fit for your finances. But if your spending is more spread out, the Kroger credit card isn't terribly compelling.
What are the advantages and disadvantages?
Pros
No annual fee
Competitive APR
First-year fuel bonus offers significant savings
Cons
Value of points is lower than average
Purchases at Kroger fuel stations don't earn rewards
After the first year, gas savings aren't great
A deeper look at the current card offer
Quick highlights
Rewards rate: 5X points per $1 mobile wallet purchases for first $3,000 (then 1 percent thereafter), 2X points per $1 spent at Kroger family companies (excluding fuel centers) and 1X point per $1 spent on all other purchases
Welcome offer: New accounts opened by September 1, 2022,) save 55 cents per gallon at Kroger Fuel Centers each time you redeem at least 100 points during the first year.
Annual fee: $0
Purchase intro APR: N/A
Balance transfer intro APR: N/A
Regular APR: 11.99 percent to 23.99 percent variable APR
Kroger Rewards World Mastercard current welcome offer
This card offers a year-long fuel bonus tied to card ownership—when cardholders redeem at least 100 points at participating Kroger Family fuel centers, they receive 25 cents off per gallon (for new accounts opened by Sept. 1, 2022). After the first year, cardholders receive only 5 cents per gallon for points redeemed.
Rewards rate
The main focus of the Kroger World Elite's Credit Card rewards leans towards redemption on store purchases. With rewards earning up to 5 percent cash back in combination with the discounts at Kroger fuel stations, it can be advantageous for Kroger loyalists.
How to earn
You'll earn 5X points on mobile wallet purchases for the first $3,000 (then 1 percent afterward), followed by 2X points for every dollar spent at Kroger stores and 1X points on all other purchases.
Strangely enough, cardholders can't earn reward points by spending money at Kroger fuel stations, but they can use their reward points to get 55 cents off per gallon when they fill up (up to $6,000, then 25 cents). While this does offer substantial savings at the pump the benefit only lasts for a year, after which the reward rate drops to just 5 cents per gallon.
How you redeem
You don't actually need to redeem anything, as Kroger sends out reward certificates at least four times a year automatically if you have at least 1,000 Rewards Points.
How much are rewards points worth?
For every 1,000 points redeemed, cardholders get $10 to spend on groceries at Kroger stores. Doing the math, this means that one Kroger point is worth 1 cent. Note: you can't redeem before you've earned 1,000 points. It's also worth noting that grocery credit certificates are the only way to redeem rewards for this card.
Other cardholder perks
Along with decent grocery reward rates, the Kroger Rewards World Mastercard also offers other benefits.
No annual fee
No annual fee means you don't have to worry about breaking even by spending a certain amount with the card; you'll be in the black after your very first purchase.
Lowest hotel rate guarantee
Through Mastercard's Travel & Lifestyle Service, you can find hotel stays for less. If you find the same hotel booking at a lower rate, Mastercard will refund you the difference.
Complimentary travel services
Cardholders receive complimentary access to the Lifestyle Manager service that will help you plan your next vacation. You can contact them at any time, whether over email, call or live chat.
Emergency Benefits
You can get assistance any time you need with Mastercard Global Service, whether the card is lost or stolen, finding an ATM location and answering questions. You also have zero fraud liability so you're only responsible for the purchases you authorized. On top of this, you also receive Mastercard ID Theft Protection that gives you access to services like surface, dark and deep web monitoring, fraud detection and compromised credentials searches.
Rates and fees
This Kroger credit card offers no introductory APR on purchases or balance transfers, but it does come with a competitive regular APR and no annual, overdraft protection or foreign transaction fees.
When it comes to balance transfers, however, cardholders are on the hook for $10 or 4 percent of the total amount, whichever is greater. For cash advances, there's a charge of 5 percent or $10 minimum, whichever is greater. Late fees and returned payments can be up to $41.
How the Kroger Rewards World Mastercard compares to other rewards cards
As a grocery store-branded credit card, this Kroger card leans heavily on purchases from its grocery store ecosystem to deliver solid reward rates and potential savings. But how does it compare to other grocery store cards?
Kroger Rewards World Mastercard®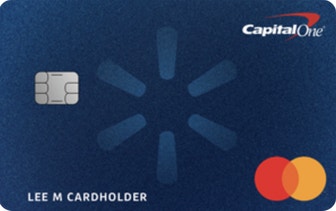 Capital One Walmart Rewards® Mastercard®
Recommended credit

Fair to Good(580 – 740)
Kroger World Elite Mastercard vs. Capital One Walmart Rewards Mastercard
When it comes to grocery store credit cards, one card that comes to mind is the Capital One Walmart Rewards Mastercard. It earns 5 percent on Walmart.com purchases, including pickup and delivery, 2 percent in Walmart stores and gas stations, restaurants, travel and 1 percent on all other purchases. Redemption options include statement credits, gift cards and travel reservations without a minimum needed.
In comparison with the Kroger World Elite card, the Walmart Rewards card is a clear winner. With more reward categories available, higher rewards at the Walmart store and more redemption options, it shows it may be more lucrative to be a Walmart shopper than Kroger. Add the fact that you need a fair to good credit score makes the card available to more consumers. That being said, the Kroger card does have one advantage in its competitive APR of 15.49 to 28.49 percent versus the Walmart Rewards APR of 17.99 to 26.99 percent. For those with great credit, you may find a lower rate with the Kroger card.
Kroger World Elite Mastercard vs. Chase Freedom Flex
The Chase Freedom Flex bonus categories typically include grocery stores each year, as well as superstores that offer grocery delivery and pickup.This perk, however, only lasts for three months and the cap of $1500 is half of the Kroger card's and requires activation.
The main advantage of the Chase Freedom Flex is that it is far more versatile. It has a better welcome offer of $200 bonus cash when you spend $500 within the first three months. You also receive 0 percent intro APR on purchases and balance transfers for 15 months followed by the 15.74 to 24.49 percent ongoing APR.
If you want a card that focuses more on grocery purchases and are a frequent Kroger shopper, the Kroger World Elite will be more beneficial. However, if you prefer the perks of a traditional credit card, the Chase Freedom Flex is an overall better choice.
Best cards to pair witch the Kroger Rewards World Mastercard
If you're looking to pair the Kroger Rewards card with other credit offerings, consider an everyday cash back card and true points card that lets you earn and redeem points more easily.
While it makes sense to use your Kroger card at the grocery store or when buying fuel from Kroger-owned businesses, a flat-rate 2 percent cash back credit card, like the Citi Double Cash Card, offers greater utility for other everyday purchases. Additionally, more popular cash back or points and miles cards are great for large purchases and let you redeem for everything from airfare to gift cards.
Bankrate's Take—Is the Kroger Rewards World Mastercard worth it?
The Kroger Rewards World Mastercard doesn't make our list of the best grocery credit cards or best no annual fee offerings. While the card offers decent rewards for shoppers who prefer the Kroger brand, it can't compete with cash back and reward credit cards that offer rewards on any grocery purchases rather than store-specific spending. With frustratingly strange fuel benefits and a relatively small cash back welcome offer, this card is outperformed across the board by other credit cards.
The bottom line? While it may be a good fit for loyal Kroger shoppers, it's not a standout spending option.
For rates and fees of the Blue Cash Preferred® Card from American Express , please click here.
The information about the Kroger Rewards World Elite Mastercard® has been collected independently by Bankrate.com. The card details have not been reviewed or approved by the card issuer.
Frequently Asked Questions

Yes! This card can be used anywhere Mastercard is accepted. You'll also earn at least 1x cash back on those purchases. To make the most of your purchases, make sure to use your mobile wallet when shopping.

The card is issued by U.S. Bank. While you can go through Kroger to manage your rewards, you will have to go through U.S. Bank to set up the account and manage it. You'll also have to reach out to U.S. Bank's customer service should there be any issues with your card.

You have 36 months to use your points before they expire and need a minimum of a 1000 points to start redeeming your points. Once you earn 1000 points, you can start redeeming points for a statement credit, Real-Time Rewards or a gift card. To make redemption easier, Kroger sends out rewards certificates each quarter when you've reached 1000 points.