How Do Credit Card Miles Work?
We'd all love to travel for free, but most of us don't fly frequently enough…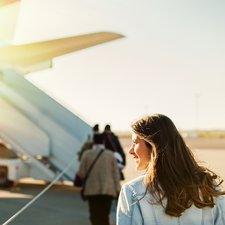 We'd all love to travel for free, but most of us don't fly frequently enough to earn a large number of airline miles. Credit card miles mean you don't have to travel at all to earn free flights. So, how do credit card miles work? 
Credit card miles have gotten a lot of attention thanks to generous sign-up bonuses offered by some of the best travel rewards credit cards. It's not as simple as signing up and scoring free travel, but once you understand how credit card miles work, it's fairly easy to earn yourself a free flight.
What are credit card miles?
Credit card miles reward customers for spending money with specific travel companies (usually airlines). The reward points are often called "miles," but the term "miles" doesn't correspond to distance travelled — instead, it reflects the amount a customer spends. Miles can be redeemed for free flights.
Each time you make a purchase with an airline credit card, you'll earn a certain number of credit card miles based on the amount of money spent. The best airline credit cards offer 1 reward mile per $1 spent on everyday purchases as well as bonus credit card miles on certain purchases. For example, you may earn 2 or 3 credit card miles per $1 spent on travel purchases.
Co-branded airline credit cards
These cards are offered by a credit card company, such as Chase or American Express, in conjunction with an airline company, such as Delta, Southwest, or United. Co-branded credit cards earn extra credit card miles on purchases made with that airline. The miles earned can typically only be used on that airline. They may also come with travel perks, such as a free checked bag or priority seating.
Generic travel credit cards
A travel card earns points or miles that can be used for a wide variety of travel purchases. These include flights, hotels, and often transportation and tours. Some have transfer partners that include a number of airlines, so you can convert your points into airline miles.
How much are credit card miles worth?
Each airline and credit card rewards program has different redemption methods for credit card miles. This means the miles you earn from airline rewards programs differ in value. The basic guideline for valuation is that each airline mile is worth $0.01. Some credit card miles are worth more, while others are worth less.
How many credit card miles do you need for a free flight?
The value of your credit card miles depends on the program. Some programs offer miles worth a flat rate of $0.01 each for travel redemptions. So you'd need 20,000 miles for a $200 flight, 30,000 miles for a $300 flight, 40,000 miles for a $400 flight, and so on.
Some airlines have flat rate redemption options based on how far you're flying. Others redeem your points based on the price of the flight you want to take. A cross-country, domestic round-trip flight in economy with the airlines listed above will usually start at 25,000 or 30,000 credit card miles. Short-haul flights, such as flights from Seattle, Washington to San Francisco, California, may be significantly cheaper with airlines that discount based on distance.
International round-trip flights to Europe often start at 60,000 miles. A round-trip flight to Asia usually starts at 70,000 miles but more often costs 80,000 or more. Flights in business class and first class will cost more.
How to earn airline miles with a credit card
The basic premise of earning points and airline miles with a great credit card is this: the more you spend, the more you earn. In reality, there are lots of different ways to earn airline miles through your airline credit card, and they don't always require you to spend money. Understanding how do credit cards work means you can maximize your points.
Get the right airline credit card for you. The most important step is getting an airline credit card that best fits your spending habits. If you spend a lot of money on one particular airline, it's probably wise to get that airline's credit card. If you split your spending between multiple different airlines or don't travel by air often, it might be a better idea to get a generic travel credit card. You'll also have to decide if you're willing to pay an annual fee. You might be hesitant to get a credit card with an annual fee, but keep in mind that annual fee credit cards earn bonus miles at a higher rate.
Look for sign-up bonuses. These are bonus miles that you can earn for spending a certain amount on eligible purchases within the first few months of opening a new credit card. Sign-up bonuses are one of the best ways to accelerate your airline mile earnings. A typical sign-up bonus might offer 50,000 miles if you can spend $3,000 in the first three months of opening your airline miles card.
Refer friends. Your rewards credit card might offer a referral program. You can refer friends to your airline card using your own unique link. If they're approved for the card you'll get bonus miles deposited into your account.
Couple up your cards. If you spend enough and prefer travel rewards, it might be a good idea to get more than one travel credit card. For example, you can pair an airline credit card with a generic travel credit card that lets you transfer your credit card points to that airline and switch them out depending on what you're purchasing for maximum earning.
How to redeem credit card miles to travel
The redemptions system for each rewards program is different, but almost all rewards credit cards have a portal where you can redeem your rewards. You should be able to access this portal by either logging into your credit card account or your frequent flyer account, depending on whether you're earning through a generic travel credit card or a frequent flyer program.
Once logged in, you'll be able to find the right redemption option. With most programs, there will be some dates when redemptions are not available or cost significantly more than usual. Here are some tips for getting the most out of your redemptions.
Book in advance. It's important to search for redemptions at least a couple of months in advance whenever possible. Not only will this help you select dates that offer lower redemption costs, but booking last minute often incurs additional fees.
Be flexible. This is one of the best ways to make the most out of your miles. If you're flexible with your travel dates, it's easy to work around popular and expensive dates to book the low-cost options.
Fly with travel partners. Many frequent flyer programs have airline partners. You can also redeem miles with an airline partner. If you can't find a low-cost flight through your primary airline, consider searching with some of their partner airlines. You may be able to use your miles to book with them instead.
Research transfer partners. If you're earning transferable points, make sure to research flight prices with each transfer partner before booking your flight. This will allow you to find the lowest price, and then you can transfer your points to that airline and book.
The best credit cards for airline miles
Choosing the right airline credit card for you will depend on your spending, travel habits, and travel goals. You want to be able to earn credit card miles quickly, but you also want to make sure the miles you're earning can be redeemed for the travel you have planned. It helps to have a specific travel goal in mind. That way you can work toward earning miles for that trip.
Choosing a card
The first decision you need to make is whether you want a co-branded airline credit card or generic travel credit card that will earn points you can transfer to a number of different airlines. If you fly with a specific airline more than a few times per year, it's often worth it to get that airline's credit card so you can earn frequent flyer miles at a higher rate. You might still want to get a generic travel credit card to use for travel purchases outside of that airline.
Other factors to consider are the card's travel perks. These can include a sign-up bonus, benefits like travel protection and rental car insurance, and luxury passes like Global Entry, TSA PreCheck, and airport lounge passes.
You'll also have to decide if you're willing to pay an annual fee for additional benefits or if you'd prefer a travel credit card with no annual fee. Keep in mind that a rewards card might come with a hefty annual fee, but that's often offset with a statement credit and other perks. If you're not willing to pay an annual fee, though, your options will be limited.
Finally, pay attention to credit score requirements. A good airline card will usually, though not always, require good credit.
Ultimately, choosing the right credit card is a personal decision that only you can make. With a little planning, you'll be earning free flights with an airline card in no time.