Going Global: Worldly flavors at The Chloe | The Latest | Gambit Weekly
It doesn't take a culinary genius to see that the composed plates chef Todd Pulsinelli…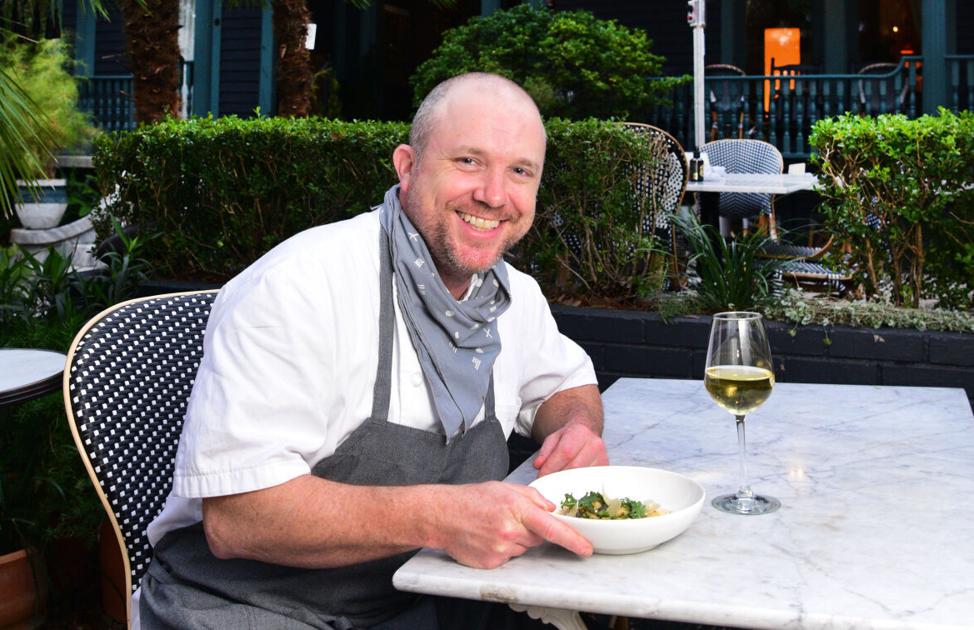 It doesn't take a culinary genius to see that the composed plates chef Todd Pulsinelli is sending out of the kitchen at The Chloe are executed by a perfectionist. From the finest heirloom garnishes to the surprising layers of flavors — hello, black garlic ice cream with wagyu tartare! — Pulsinelli's food sets a high bar.
A few years ago, Pulsinelli was at the helm of August, one of the city's most elegant fine dining restaurants. Those chops are still apparent, despite his next move to the more casual Warbucks, a BRG restaurant that opened in December 2018. That restaurant shuttered after just eight months, but he wasn't out of work long.
After Warbucks closed, he took off for about a month and spent time in Dallas, where his wife's family lives. When a few of his pals who work at Sylvain told him the LeBlanc + Smith restaurant group planned to open a boutique hotel, he was intrigued.
The local company has a good reputation in the hospitality industry, operating Sylvain, Longway Tavern and Cavan, though it recently was forced to close Meauxbar on the edge of the French Quarter.
Pulsinelli reached out to owner Robert LeBlanc to see what was going on with the hotel's kitchen. "We started talking, had a few interviews and I cooked for the management team. I think the timing was good all around," he says. He started with the company Sept. 1, 2019.
The Chloe, formerly a bed and breakfast called the Avenue Inn, is set back from the street in a picturesque 19th-century mansion at 4125 St. Charles Ave. Restored to a gorgeous luster after a year-long redesign, the project was delayed by four months thanks to the coronavirus pandemic.
The 14-room hotel, which opened in mid-October, offers seating for 120 guests in non-pandemic times, with plenty of outside seating under the branches of a stately live oak tree, as well as a more casual outdoor setting in back by the pool patio. There is also indoor dining and seating in the bar area.
From the start the concept was "21st-century New Orleans" cuisine with global influences, said the German-born, Midwest-raised chef, who moved to New Orleans in 2004. (He now lives in Gentilly with his wife Elizabeth and their sons Ted, 3, and Hank, 8.)
"It's a little eclectic," Pulsinelli says of his cuisine. "The dishes are a lot of things and variations I've done through the years. A classic is a classic, but I use the same technique to change things up just a little."
Take the agnolotti z'herbes with pot liquor and harissa sauce. Pulsinelli loves collards, which he braises in a spicy, rich broth, stuffs into pasta pockets and tops with ribbons of more greens. It's rich, elegant and definitely not the traditional green gumbo. "I had a customer get a little peeved that he wasn't getting gumbo with white rice," he said.
Shrimp etouffee gets an Asian sheen, stuffed into potstickers and served with crushed chili and fragrant ginger. Local drum is crisped in brown butter and topped with bearnaise, flanked with nibs of green beans and bok choy.
House-made charcuterie includes a warm sliced sausage, most recently spiced with harissa, zippy tasso, liver mousse, pimento cheese and seasonal marmalade, served with fried saltines on the side, North Carolina-style.
The six-ounce twin stack burger is a crowd pleaser, a straight-up all-American cheeseburger dressed with tarragon dill pickles on a poppyseed bun from Weiss Guys Bakery in Covington.
Grilled broccoli and cauliflower salad is dressed with homemade chili crunch and quick-charred for lots of texture, tossed with peanuts, lime and jalapeno.
For dessert, it doesn't get better than the green tomato hand pie, an ode to Hubig's that arrives under a fragrant orange glaze, studded with buttery sliced almonds.
With its roomy outdoor space and live music on the weekends — find out about that on The Chloe's Instagram account @thechloenola — the crowds he's been feeding have mostly been local, which is a good thing.
Opening a new business during a pandemic is stressful. Like many other restaurants and businesses, they had to close for a few days when two team members tested positive for the virus. "We have weekly rapid testing and stringent cleaning measures in place," he says. "It's the right thing to do. We're blessed in these crazy times to be relatively busy."
---
WHAT
WHERE
4125 St. Charles Ave,
(504) 541-5500
@thechloenola on Instagram
WHEN
7 a.m.-10 p.m Mon.-Thu.;
7 a.m.-11 p.m. Fri.-Sat.;
7 a.m.-9 p.m. Sun. 
HOW
Dine-in, takeout 
CHECK IT OUT
Worldly, creative new takes on classics & more