Gitzo Legende Backpack and Tripod Review: Well-Intentioned
Gitzo recently announced a new travel tripod and backpack designed with a focus on sustainability…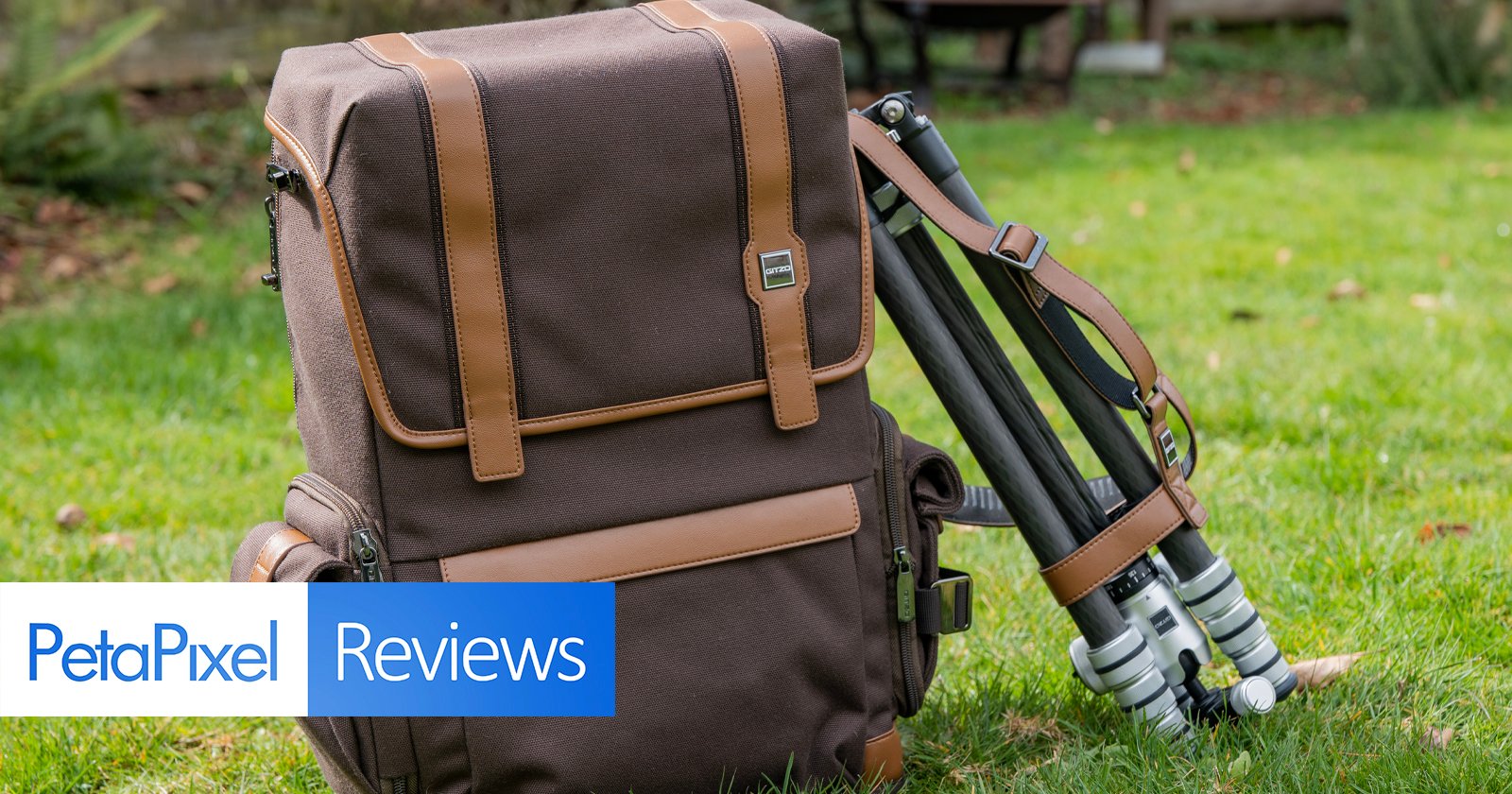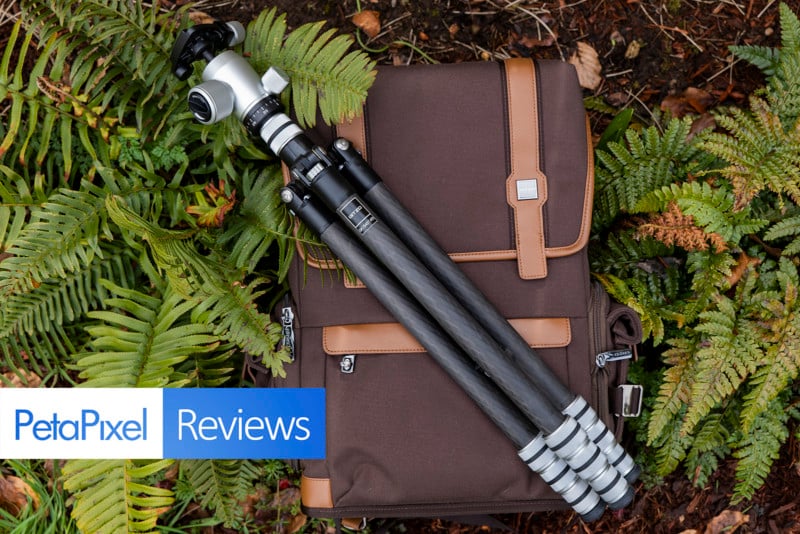 Gitzo recently announced a new travel tripod and backpack designed with a focus on sustainability and reducing waste. Named Legende, they have a great mission that is well-intentioned, but it's still important that the products function as promised.
One thing that was immediately brought up in our original coverage of the Legende tripod and backpack was the price: this gear isn't cheap. That said, Gitzo is not known for making affordable equipment; Gitzo makes quality, expensive equipment. As such, the asking price here is going to be, for the most part, disregarded since it's not really out of the ordinary for the company and $520 for a carbon fiber tripod that is supposed to last a lifetime doesn't sound too crazy, and $180 for a backpack isn't an insane amount either. So instead of fixating on price, let's just see if the product is of the high-quality that was promised.
Quality Materials
Starting with the backpack, there are a lot of little things that the Legende gets right. First of all, the little hooks for the zippers are lovely and I really like the magnetic clips that secure the top of the bag.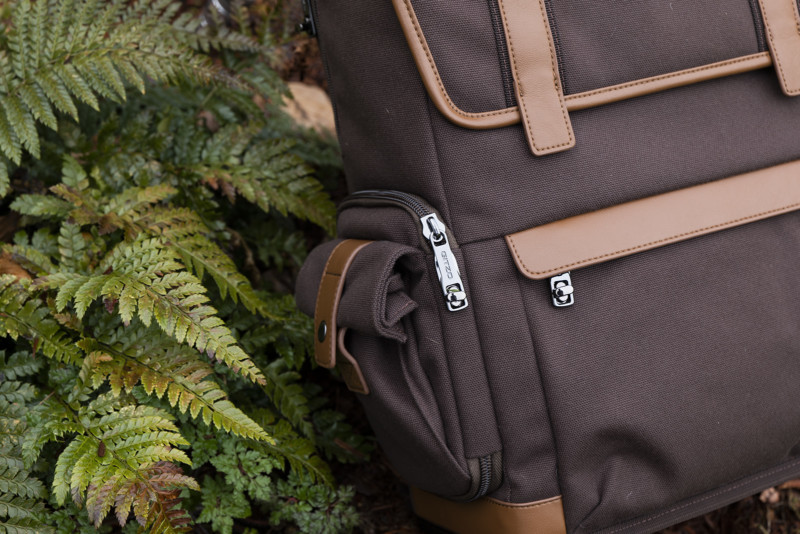 The dominant material feels thick and rugged and tough, which is reassuring. The actual quality of the sewing is also well done and nowhere on the bag is there any sign of fraying threads, an issue that is really common on backpacks. I'm not saying threads won't eventually fray, but I do think that the overall build quality of the backpack is lovely.
The imitation leather that Gitzo chose for this bag — for sustainability reasons — feels pretty good but is obviously not actual leather. It is, however, pretty tough and resilient. As such, it feels sturdy and well-built enough to handle use in the wilds.
That said, the bag doesn't have an above-and-beyond level of weather resistance, which would have been nice to see. If it starts to more than just lightly mist or drizzle, you'll want to use the included rain cover.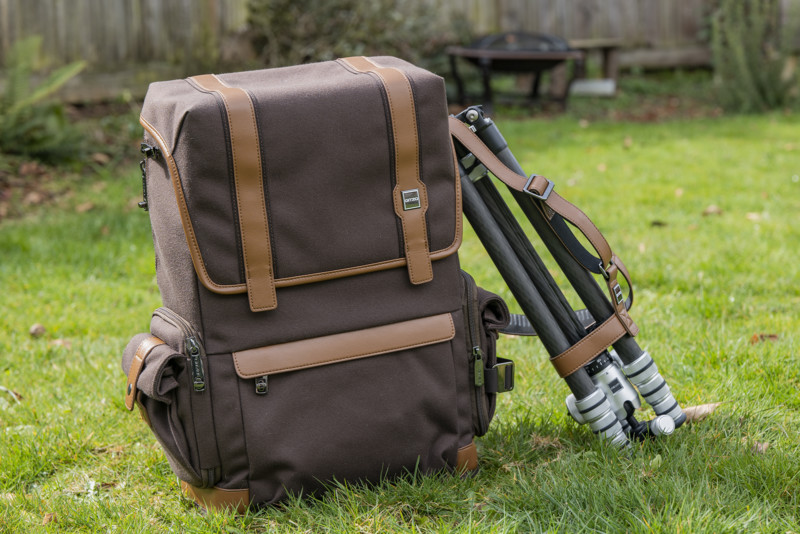 There are a good number of pockets and compartments on the bag, but not so many as to easily lose track of where you might have put something. There is a trend to just put as many pockets as possible on a bag these days, and I think Gitzo struck a decent balance. Aside from the two main compartments, there are something like six additional pockets scattered across the sides and back.
A Tripod Built to Last
The tripod is exactly what you would expect from Gitzo: lightweight, familiar design, and well made. I honestly have very little to report when it comes to the tripod because Gitzo took so few risks with it.
I can't really blame them though: if it's not broken, why fix it? Sure, the company could have invested a bit of time and effort into trying new things with a tripod as Peak Design has (a tripod I've reviewed and generally liked), but the Legende tripod is still a really good option when compared to the field.
While tripods are generally simple and easy to repair, Gitzo has promised that all the pieces on this tripod are easily sourced so that you can make repairs at home. Included with the tripod are a few interchangeable parts, a couple of tools you will need to fully disassemble it, and tripod grease to make sure the moving parts in the head rotate smoothly.
This, like every Gitzo tripod I've ever used, is one of the highest-quality tripods you will ever come across. If you're handed this in the field, in most cases you'll thank whoever gave it to you for the opportunity. It doesn't fight you, it doesn't try to be too much, it just does the job — and does it well. Gitzo ships the Legende tripod with a removable faux leather strap and it works well enough, probably more so than a dedicated zip-tie bag you find with other brands. You don't necessarily always need it, but it's nice that it's there. Just like the backpack, the materials are high quality and the production is well made.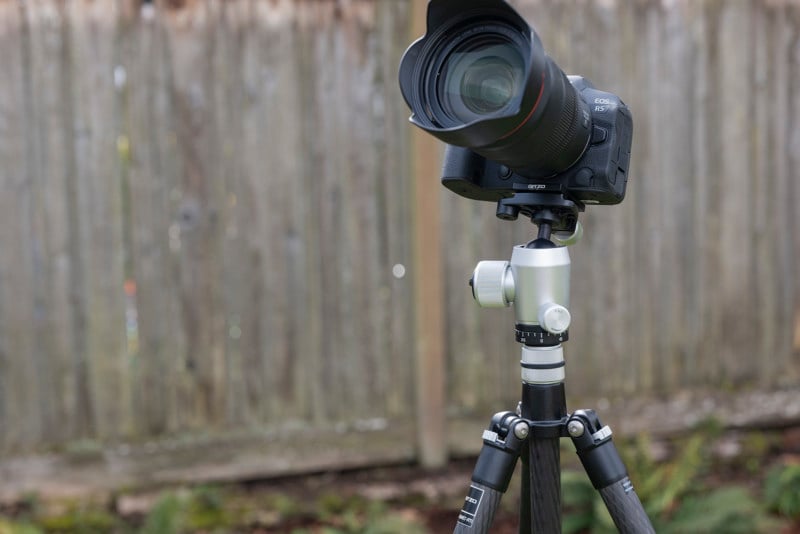 The tripod can support about 18 pounds worth of camera, which is well more than most looking at a travel tripod of this size would ever need and it extends to a pretty tall 65 inches.
As far as using the tripod goes, it's as well built, sturdy, and reliable as you would expect from a high-end product like this. The only change I made to the tripod upon receipt was to replace the cap on the bottom of the center shaft with a hook for hanging a bag (both for added stability and to keep my backpack out of the dirt). I can confirm the twist locks feel solid and well made and the whole thing just feels quality.
Gitzo markets this tripod to last a lifetime and while I don't think the strap will necessarily hold out that long, I've seen nothing in the build quality of the tripod itself to contest that claim. Given the quality of the materials and the fact it is fully repairable at home with just a few simple tools, it feels like it lives up to the expectation.
If I had any complaints, it's that my particular review unit feels a bit rushed. The rubber grips on the feet have a frayed, straight-off-the-line look to them and there is a bit of a smudged/scratched section of the head that was there right out of the box. These are all cosmetic issues and don't really affect how I would use it, but when something is supposed to be this high quality, you kind of expect it to be flawless.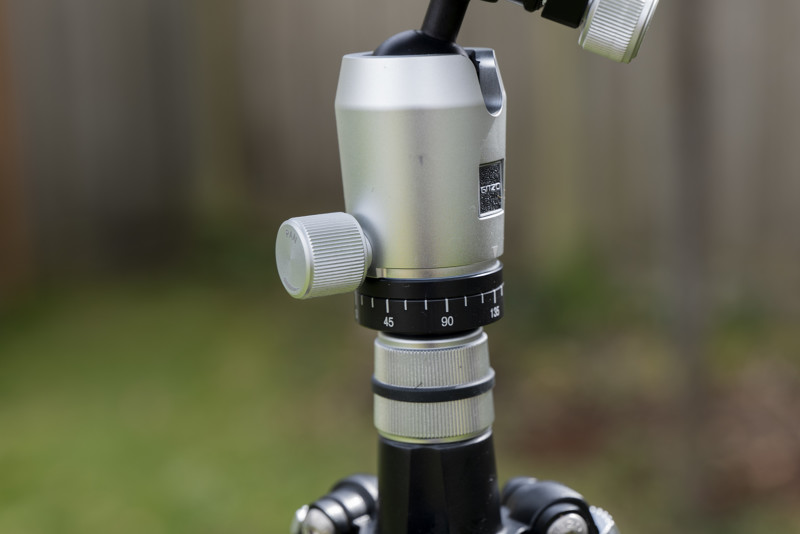 An Imperfect Solution
While the tripod doesn't leave much to complain about, the backpack, unfortunately, doesn't really hit on all cylinders, especially in places that it really should.
Given Gitzo's marketing, the Legende backpack looks like one that is designed to be taken out into the wilds and enjoy nature to its fullest. Unfortunately, its aforementioned lack of built-in weather resistance mixed with its poor support and lack of support straps disqualifies it from that actual use case.
I think the Gitzo Legende Backpack is a city day bag masquerading as an adventure bag. It won't do either of those tasks particularly well and lacks the features it desperately needs in order to be even a "good" outdoor backpack.
Poor Support
The Legende Backpack has no waist strap nor does it have chest straps. Additionally, the shoulder straps are not adjustable.
Basically, the bare minimum of a backpack adjustment is found here: the bottom of each harness. I'm willing to forgive the lack of a waist strap, as many waist straps are bad at their jobs and don't effectively take weight off the shoulders, but the lack of a chest strap is a real issue for me.
I took this bag out with a camera, lens, water bottle, sweatshirt, and tripod packed in it for a modest hike just to see how my body would respond to the way the bag distributes weight. While not horribly uncomfortable, within 20 minutes I was keenly aware I was wearing a backpack and regularly trying to adjust it to move the weight around and prevent pinching.
After an hour, I was more than ready to take the bag off.
I've done some pretty grueling hikes as well as had to wear a backpack all day on flat ground, and I can't say I think this bag would be particularly comfortable for either task.
Limited Access
I was pretty surprised to find that there is no easy way to access the entire interior of the Legende backpack. The Gitzo designers made it so that the only ways in and out of the bag are either from the top or through the side access pocket. Either way, to get to the entire interior at once, you have to remove the divider that separates the camera compartment from the top compartment. Doing this, as you can well imagine, upsets the delicate nature of how velcro dividers like to sit, and getting it back into the perfect position with the limited angles available to you is a real challenge.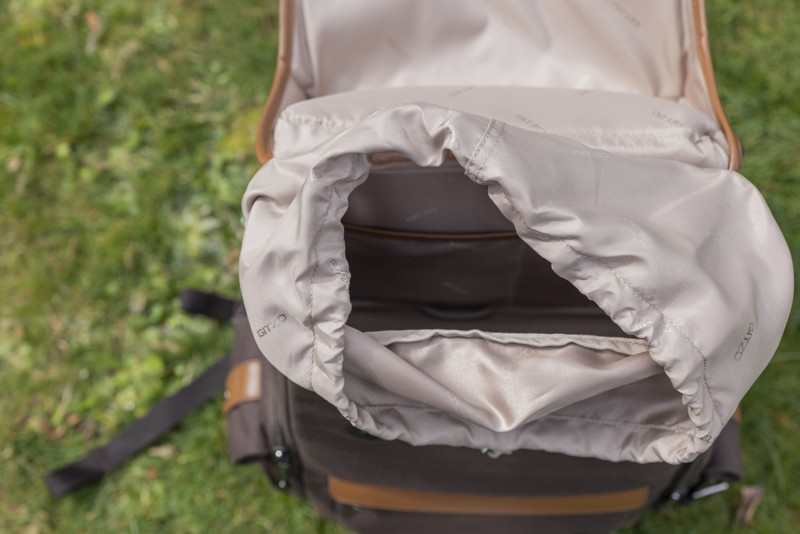 I was really hoping the back opened up to show the entire inside of the bag at once, but that is not the case. That means that if you have something on the bottom of the top pouch, you have to dig around the stuff on top of it in order to get to it. Similarly, finding any camera equipment in the camera compartment is not easy. Firstly, it's small. This is a backpack that assumes you don't want to bring much in the way of camera equipment with you. A single camera and a lens fit just fine, but anything more starts to push it. I can imagine fitting a few lenses in here if they're smaller, but any of the more robust lenses from Canon, Nikon, or Panasonic are going to test the limits of how much this bag can realistically hold in the camera compartment.
It should be noted that because of the way the compartment is accessed, you can't really make it bigger even if you have spare velcro inserts. The only way to get into the bottom portion of the bag is through the single access point on the side. Rearranging the inserts to make more room for cameras means climbing up the height of the bag and out of the reach of that single opening.
Even in the default configuration, when loading or unloading it, you will often find that the stuff you put into the bag blocks you from accessing other little corners simply due to the cramped way it is designed.
In short, if you try and gain access to everything in either compartment it means you have to basically empty the backpack to do so effectively.
I think if you are only bringing one camera, a couple of lenses, a jacket, and a few snacks, this might be okay. Anything more than that is not only going to be too heavy for the limited support system to properly distribute but also a pain to access.
A Mixed Bag
The Legende Backpack and Tripod set gets halfway there. The tripod is easy to recommend due to how easy it is to repair and how sturdy and well-made the parts are. It's on the expensive side but is by no means the most expensive option in its segment either.
The backpack on the other hand is likely to disappoint, with limited storage and poor support options that offset the high-quality materials and other few smart design elements. Luckily, you don't have to buy them both together.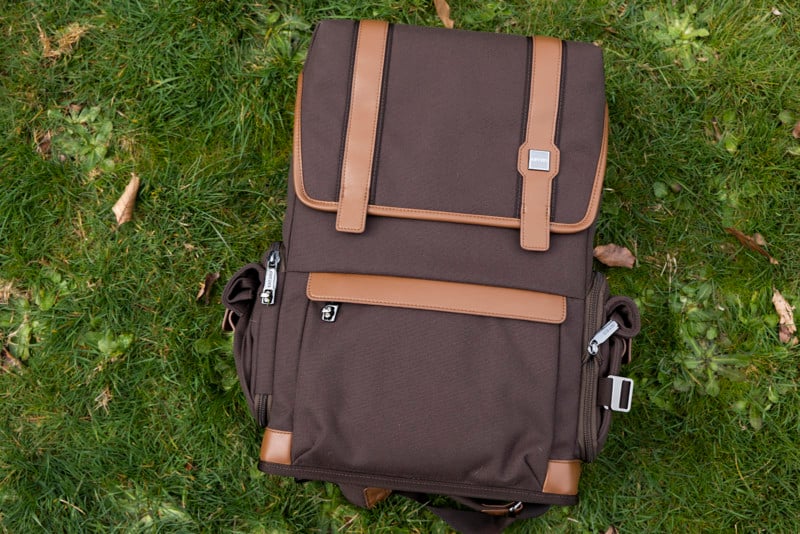 Are There Alternatives?
I can't believe I'm saying this, but the much-maligned Peak Design Backpack is actually a lot more comfortable than the Legende Backpack, despite its issues. I don't think it's a straight across-the-board better bag, but I think if given the option, I'd have to pick the Peak bag just because I know it's more comfortable over longer stretches of time. There are also great choices from Wandrd.
For tripods, it's hard to beat Gitzo for the quality and repairability at this price. Peak Design again comes close with its travel tripod and while it is smaller and has a unique design, it has a worse ball head and isn't as easily repairable. Also, it's not so cheap itself. Really Right Stuff also makes a great travel tripod — the TFC-14 MK2 — but it's even more expensive than the Gitzo and doesn't include a head.
Should You Buy It?
Yes, if we're just talking about the Legende Tripod. If you want a tripod that is small and lightweight, this one is great.
The backpack, however, is a no. It isn't particularly comfortable, the capacity is too challenging to work with since the back doesn't open up and provide access to the whole interior, and the lack of both chest and waist straps is a big letdown.
---
Disclaimer: Make sure you do your own research into any crowdfunding project you're considering backing. While we aim to only share legitimate and trustworthy campaigns, there's always a real chance that you can lose your money when backing any crowdfunded project.