Ex-NBA player's plans for Strip project still alive after vote
After years of showing little progress on his Las Vegas arena and hotel project, former…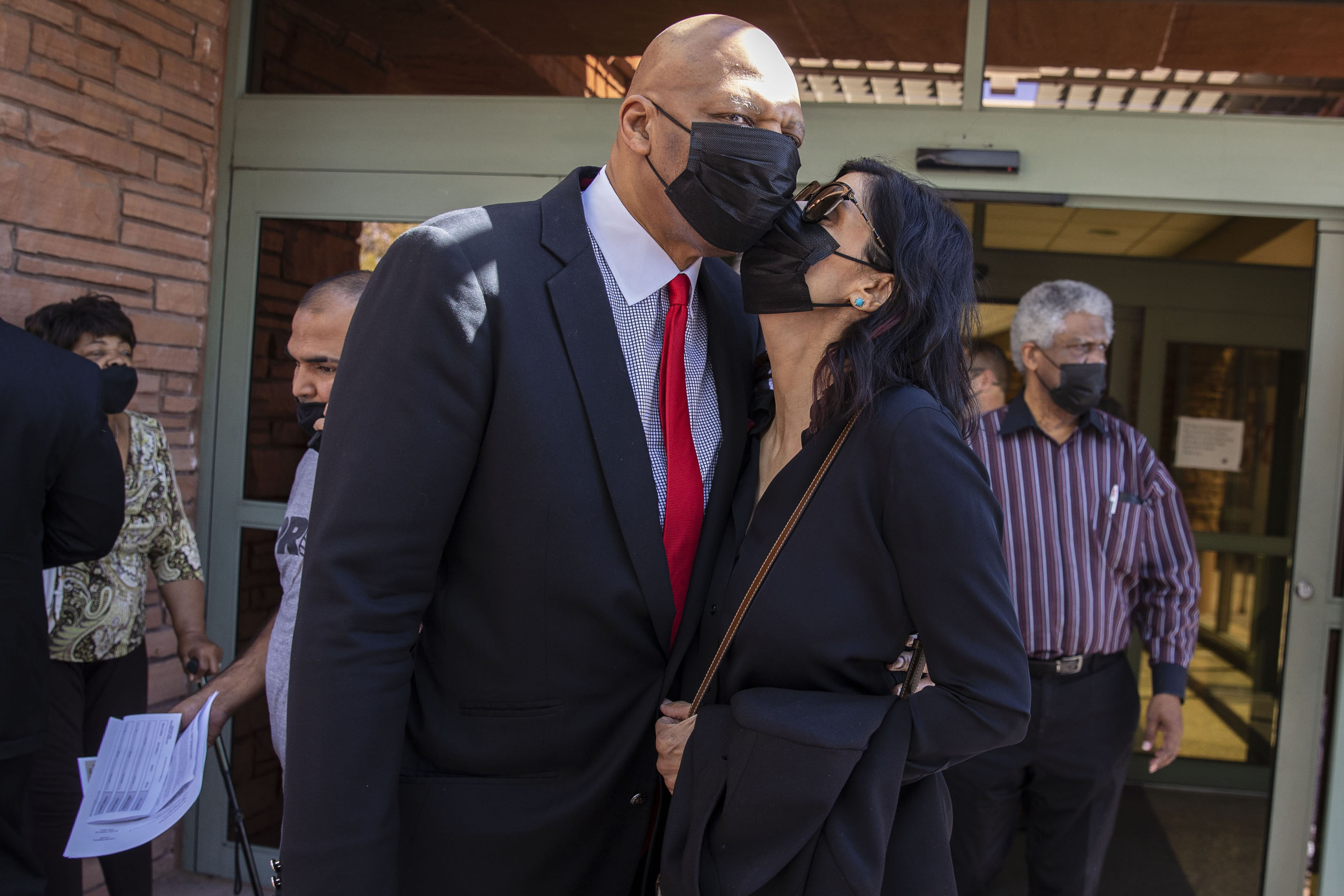 After years of showing little progress on his Las Vegas arena and hotel project, former NBA player Jackie Robinson kept his plans alive Wednesday.
The Clark County Commission approved project agreements with Robinson that had to be completed by this month or his long-stalled plans would have expired.
Robinson told the panel before the vote that his group thinks it will bring "one of the most fantastic projects" to the Strip.
"We greatly appreciate the opportunity," he added. "We don't take it for granted.
The 65-year-old former UNLV basketball player has been pursuing the massive north Strip proposal for years, and the vote by no means guarantees it will get built. Rather, it keeps his plans alive after the commission gave Robinson an ultimatum last fall to submit development and performance agreements and a bond.
At the time, Commissioner Tick Segerblom, whose district includes the 27-acre project site, said that it was "time to fish or cut bait," that the panel was giving Robinson his "last six months," and that if the developer didn't file the paperwork in time, "it's over."
Segerblom said at Wednesday's hearing that the north Strip is "on fire," noting the 3,500-room Resorts World Las Vegas is slated to open June 24, and that the time is ripe for Robinson to make his vision a reality.
"We're just so pleased to be able to have something positive," Segerblom added.
'Back on course'
Robinson's plans have called for a 22,000-seat arena, 44-story and 63-story nongaming hotels, conference space, restaurants, a bowling alley, a movie theater and more.
But his project site, between Sahara Las Vegas and the unfinished former Fontainebleau, consists of a giant hole in the ground, showing no further progress beyond some excavation work four years ago.
Robinson told the Review-Journal after Wednesday's vote that the project hasn't come out of the ground because of a dispute with a contractor he declined to name, and he indicated that while it was being worked through, his financing plans were terminated.
Robinson stated that he has other financing but that he can't say who will supply the funds.
He said that the project is estimated to cost a little over $3 billion and that he's looking to resume excavating the site in late summer.
"We're back on course," he said.
Will Bradley, an airline pilot who lives in the Sky Las Vegas condo tower near the project site, told the Review-Journal that based on media coverage of Robinson's venture, the former athlete "may have overextended his ability to get this done."
Bradley cited, in part, the complicated financing plans Robinson once described to the commission, which involved money in Qatar, people in Zurich, central banks in Europe and the U.S., lines of credit, funds moving from one bank to another, and state of Nevada revenue bonds.
But Bradley supports the project. He likes Robinson's vision, noted the developer has land to build on, and said he would buy season tickets if an NBA team ended up there.
Plus, he said the project would provide another sort of boost.
"It will help our property values," he said.
Mosquito traps
The development pact adopted Wednesday describes various responsibilities, such as paying the county for firefighting-related services and to provide nearby bus turnouts, while the performance agreement outlines the cost to secure the site if Robinson abandons the project.
This decommissioning plan, as it's also known, is estimated to cost around $11.6 million. Robinson is furnishing a $12 million-plus bond to cover the tab and any additional unforeseen expenses.
His project has been in the works for years. Robinson initially announced plans in late 2013 to build an arena with a retractable roof and a luxury hotel. At the time, the project, on the former Wet 'n' Wild water park site, was slated to cost $1.3 billion and open in late 2016.
County commissioners approved project plans in 2014 and gave the green light to a big expansion of his proposed development in 2017. But the property has largely stayed quiet.
After receiving complaints of accumulated rainwater at the property, the Southern Nevada Health District set traps in 2019 and captured more than 150 mosquitoes.
Contact Eli Segall at [email protected] or 702-383-0342. Follow @eli_segall on Twitter.