Does Your Airline Have to Pay You When You're Delayed? If You're in the U.S., Probably Not.
Image source: Getty Images Flight delays are inconvenient and can cost you money — but…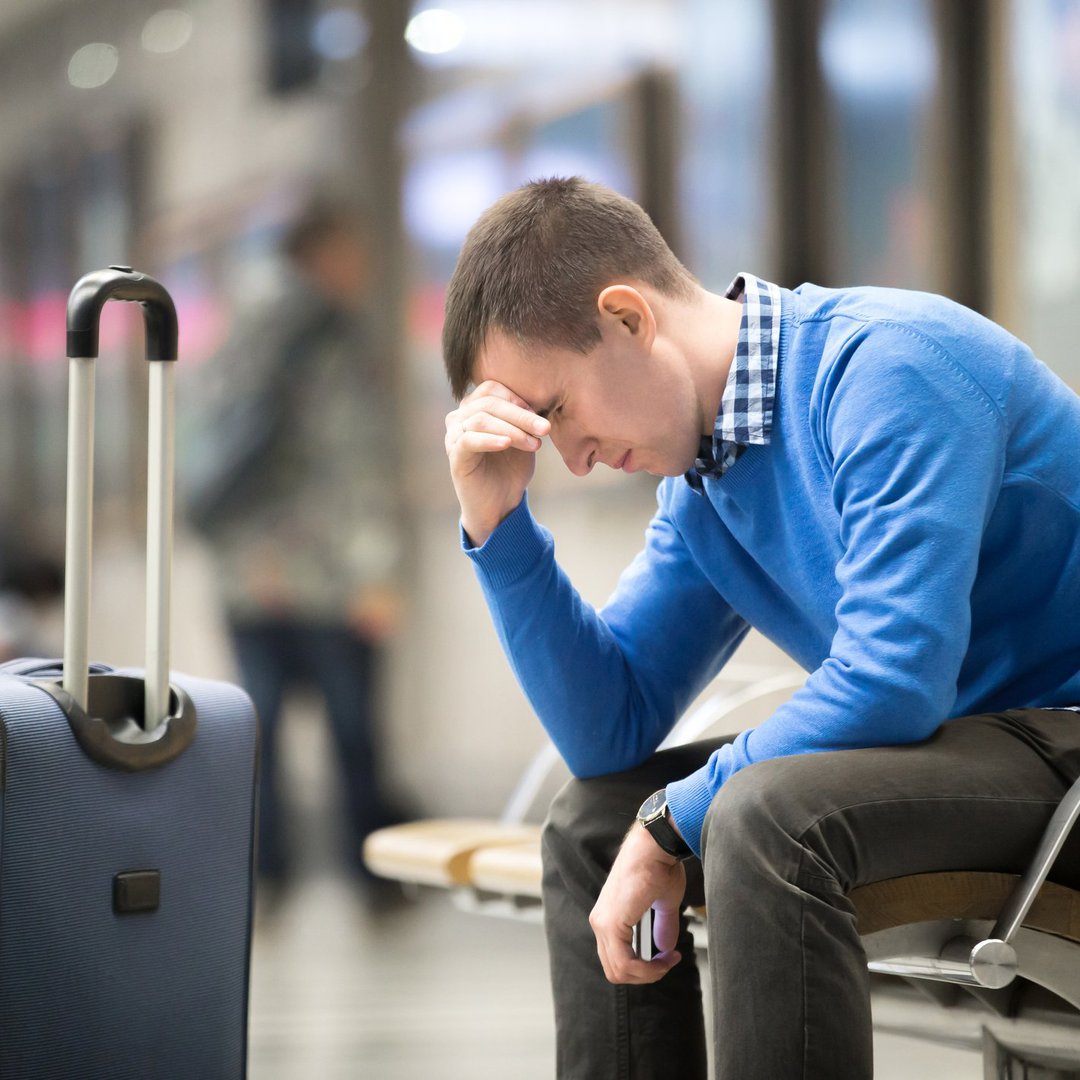 Flight delays are inconvenient and can cost you money — but are you entitled to compensation?
---
Key points
Flight delays and cancellations are common and can negatively impact your travel plans.
If your flight is delayed and you're flying with a U.S. carrier, you're likely not entitled to compensation.
There are steps you can take to prepare for a potential flight delay.
---
No traveler likes delays — but they happen. Delays and cancellations have been frequent this summer. You may be wondering what happens when your airline delays your flight. While a delay can be inconvenient and may impact your bank account balance — your airline isn't required to compensate you. Find out what you need to know about airline delays.
When flying with a U.S. carrier, it's essential to know the rules and regulations before you arrive at the airport. The U.S. Department of Transportation outlines airline transit rules online.
Unfortunately, in the United States, few laws require airlines to compensate fliers when things don't go as planned. There are specific rules for how airlines must handle compensation when bumping passengers to a later flight due to an oversold flight, however.
But when it comes to delays, travelers aren't protected. While an airline may offer to compensate you for long delays — in the form of meal vouchers, hotel vouchers, or airline vouchers — it's not something they're required to do by law.
We've done the research to help you prepare before your next trip. As a reminder, the information below relates to flights with U.S. carriers originating in the United States.
Are airlines required to compensate you for delays?
No. There are no federal laws requiring airlines to compensate passengers for delays. Each airline outlines its own policies. You can review your airline's conditions of carriage to find out how they handle certain situations.
Most airlines choose not to offer compensation when delays are beyond their control, like weather-related issues. With that in mind, just because you're not offered compensation for a long delay doesn't mean you can't ask.
What happens if the delay happens on the tarmac?
U.S. airlines can't remain on the tarmac for more than three or four hours unless there are safety issues or if air traffic control tells the pilot that taxiing to the gate would cause significant operational disruptions. The timing depends on whether it's a domestic or international flight.
If you're stuck on the tarmac, your airline must provide passengers with a snack and water no later than two hours after the tarmac delay begins. Tarmac lavatories must remain operable, and medical attention must be available.
What happens when a flight is canceled?
If your flight is canceled, here's what you can expect:
Most airlines will rebook you for free on their next flight if there is an available seat.
If you cancel your trip due to a flight cancellation, you are entitled to a refund for the unused transportation — even if you bought non-refundable tickets. You're also entitled to reimbursement for additional expenses like bag fees and seat assignments.
When a flight is canceled, your airline is not required to put you on a flight with a different carrier. However, you can ask if they will.
Does an airline have to offer compensation for additional expenses when my flight is canceled?
No. Airlines aren't required to provide compensation for hotel rooms, cab fares, food, and other non-airline ticket costs when a flight is canceled.
Each airline has its own policies. Don't be afraid to ask if the airline will cover additional costs like a hotel room and meals because if they agree, you may be able to save some money.
What you can do to minimize flight delays
There's no for-sure way to avoid flight delays. However, delays are more likely to happen for flights that happen later in the day.
Booking a flight that departs earlier in the day will minimize the odds of it being delayed. Additionally, if your early flight gets delayed or canceled, there may be more alternate flight options available later in the day.
Travel credit cards may help you
Since delays and cancellations are common, it's a good idea to consider other ways to protect yourself before your next trip. One option is to purchase a travel insurance policy.
Another option is to use a travel credit card. Some travel rewards cards offer additional protections like baggage delay protection, trip delay insurance, and trip cancellation insurance. These benefits can help you recoup money if your vacation doesn't go as planned.
Each credit card issuer has its own benefit rules, so be sure to review the terms of your coverage before your trip begins.
As an added reminder, you'll need to book travel with an eligible credit card to use these perks. You'll be out of luck if you pay with a different rewards credit card.
Another reason to use a travel card is to earn valuable rewards. If you're considering applying for a travel credit card, review our list of best travel credit cards.
Top credit card wipes out interest until 2023
If you have credit card debt, transferring it to this top balance transfer card secures you a 0% intro APR into 2023! Plus, you'll pay no annual fee. Those are just a few reasons why our experts rate this card as a top pick to help get control of your debt. Read our full review for free and apply in just 2 minutes.