Delta Will Begin Offering Free Wifi to Fliers on Feb. 1
Image source: Getty Images Flying with Delta will soon come with more perks. Key points…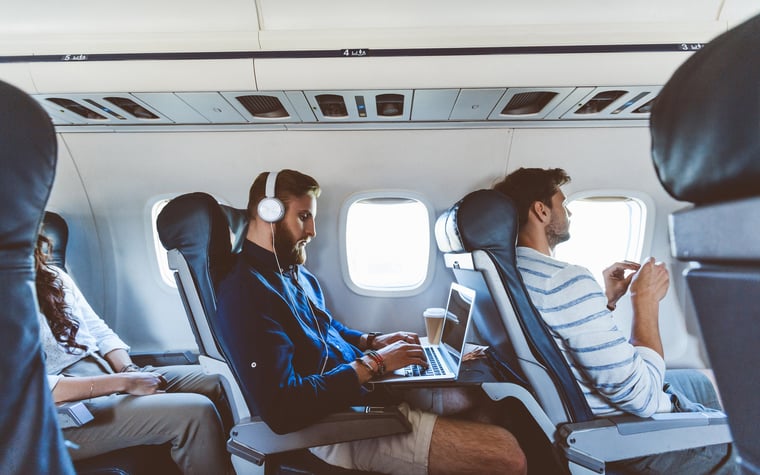 Flying with Delta will soon come with more perks.
---
Key points
Most U.S. airlines charge extra fees for wifi access.
Delta will offer fast wifi at no cost to all passengers on Feb. 1.
The airline plans to make wifi free, add new in-flight entertainment options, and introduce an all-new entertainment system to improve the customer experience.
---
Travelers who like to stay connected while on the go will appreciate this news. Delta Air Lines, in a partnership with T-Mobile, will offer free wifi to fliers on domestic mainland flights beginning Feb. 1. By the end of 2024, the airline plans to expand its free wifi offerings to international and regional flights. Find out more so you know what to expect.
Delta Air Lines announced that it will introduce free wifi on most domestic mainland flights on Feb. 1. This service will be available to all passengers. The airline plans to make wifi available at no cost across its entire global fleet by the end of 2024.
The airline hopes that this offering will improve the in-flight experience for passengers. Fliers will need to enter their SkyMiles loyalty number and password to access the internet. The SkyMiles program is free to join, and non-members will be able to join the program mid-air. Those who don't want to join the loyalty program can pay $10 per device to connect to the internet.
Discover: This card has one of the longest intro 0% interest periods around
More: Consolidate debt with one of these top-rated balance transfer credit cards
In a statement, Delta shared a recent message from CEO Ed Bastian: "At work, at home, and everywhere in between, connectivity is essential to daily life, and your journey on Delta should be no different." He continued, "Our vision has long been to deliver an experience at 30,000 feet that feels similar to what our customers have available on the ground."
Free in-flight wifi is rare
This is exciting news for the airline industry. At this time, most U.S. airlines make customers pay extra fees to access in-flight wifi (JetBlue is the exception). Some travelers have airline credit cards that offer a discount on in-flight purchases like wifi or provide a statement credit for such expenses, but not everyone uses these cards.
Paying to use the internet can be frustrating when you've already spent a significant amount of money on your airline ticket. It'll be interesting to see if any other airlines decide to say goodbye to wifi fees to win over more customers.
There's more good news for Delta fliers
The airline highlighted some additional offerings that will be available later this year. Delta will boost its in-flight entertainment options through Delta Sync in spring 2023. SkyMiles members who connect to the internet can access exclusive content from brands like Paramount+, Atlas Obscura, and New York Times Games.
Delta will also introduce an all-new in-flight entertainment system in 2023. The new user interface will feature SkyMiles membership integration, content recommendations, real-time seatback notifications, and food- and beverage-ordering capabilities in First Class.
What this means for your wallet
If you're a loyal Delta flier, you'll soon be able to access free in-flight wifi, which is a win for your wallet. You'll have more money left in your vacation budget to spend at your destination, plus you can have a more pleasant in-flight experience with plentiful entertainment options.
If you fly with Delta often, you may want to open a Delta credit card. You can earn more Delta SkyMiles and take advantage of perks that improve your travel experience. Review our list of the best Delta credit cards to learn more about available cards.
Top credit card wipes out interest until 2024
If you have credit card debt, transferring it to this top balance transfer card secures you a 0% intro APR for up to 21 months! Plus, you'll pay no annual fee. Those are just a few reasons why our experts rate this card as a top pick to help get control of your debt. Read our full review for free and apply in just 2 minutes.