Covid news live: Latest updates as minister admits mistakes 'with hindsight'
'Hard to compute the sorrow' of 100,000 coronavirus deaths, Boris Johnson says The government is…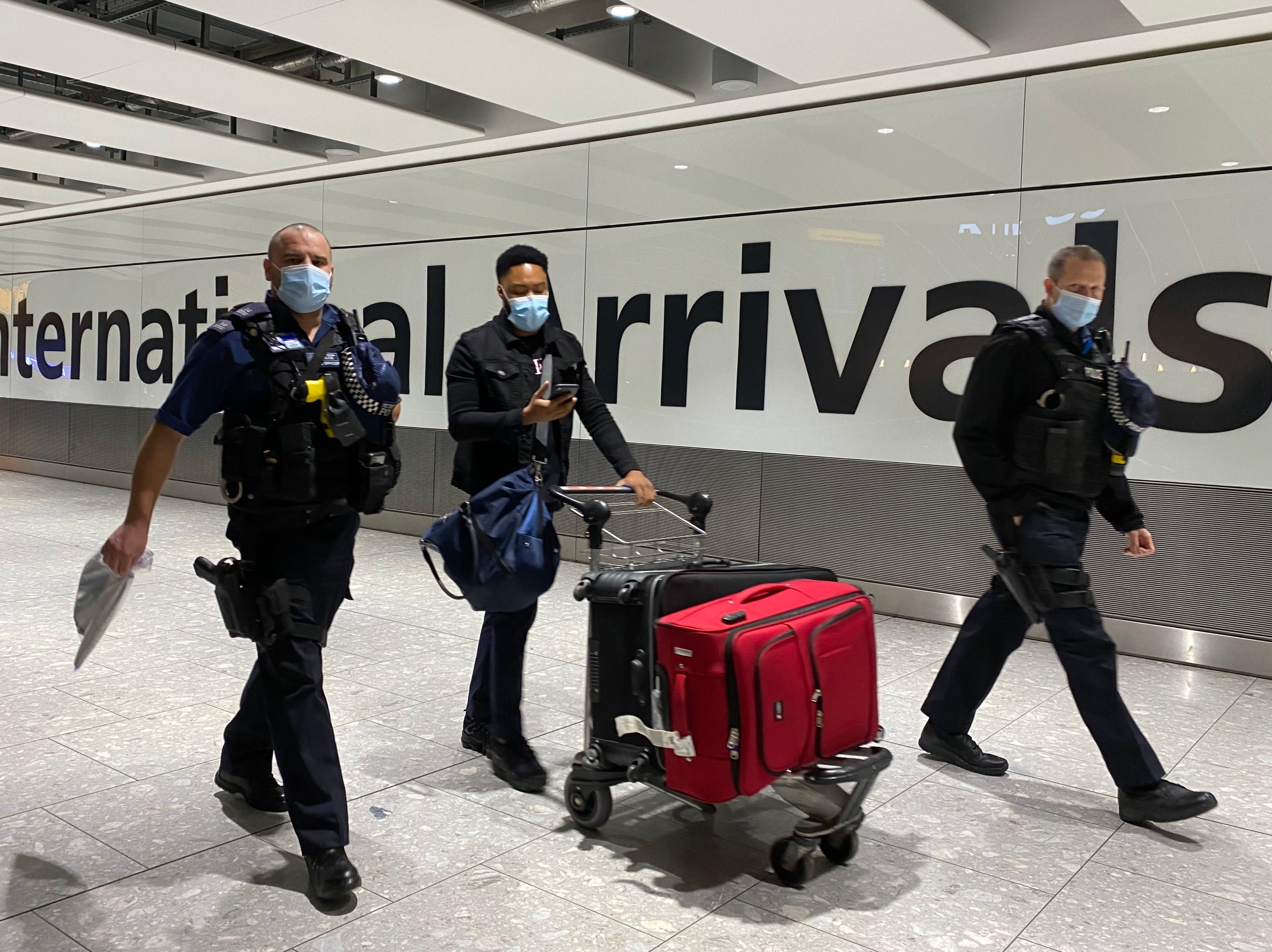 'Hard to compute the sorrow' of 100,000 coronavirus deaths, Boris Johnson says
The government is expected to announce plans for Britons to pay for hotel quarantine when returning from 30 high-risk countries to prevent coronavirus variants from entering the UK.
Home secretary Priti Patel will set out the new rules in the House of Commons on Wednesday after Labour leader Sir Keir Starmer called for it to be compulsory for every traveller arriving in the UK to quarantine in a hotel.  
The quarantine list is expected to include countries where new variants of the disease have been identified such as South Africa, South America, Portugal and Cape Verde, according to The Times.
Separately, Boris Johnson has reportedly rejected Ms Patel's calls for a temporary closure of borders to protect against importing the variants.
The prime minister on Tuesday offered his "deepest condolences" to those who have lost relatives to coronavirus as the UK's death toll surpassed 100,000.
1611743643
Another pandemic could be around the corner, pandemic warns
It's probably not what any of us want to hear right now, but a leading epidemiologist has warned another so-called Disease X capable of causing a global pandemic could be just around the corner – and is a matter of when, not if.
Scientists have been discovering new viruses capable of infecting humans at a constant rate for the past 50 years, finding one or two new viruses every 12 to 24 months, said Professor Mark Woolhouse.
Andy Gregory explains more in this piece:
Chiara Giordano27 January 2021 10:34
1611742721
Communities secretary admits government would have done some things differently 'with hindsight'
Communities secretary Robert Jenrick has admitted the government's coronavirus response should "almost certainly" have been different "with the benefit of hindsight".
However he also insisted ministers took "the right decision at the right time" and "everything that we could to protect people's lives".
Policy correspondent Jon Stone has more on those comments below:
Chiara Giordano27 January 2021 10:18
1611742054
Contactless card payment limit could rise to £100
The Financial Conduct Authority is to seek views on amending rules to allow for a possible increase in the contactless limit to £100.
Since the limit for contactless card payments was raised to £45 last April at the start of the coronavirus pandemic, people are increasingly making use of contactless payments, the regulator said.
It said: "It's important that payments regulation keeps pace with consumer and merchant expectations.
"Recognising changing behaviour in how people pay, as part of a wider consultation, we will shortly be seeking views on amending our rules to allow for a possible increase in the contactless limit to £100."
Chiara Giordano27 January 2021 10:07
1611741338
Good Morning Britain airs roll call of Covid victims
Good Morning Britain has today aired a roll call of Covid victims after the UK death toll hit 100,000
Good Morning Britain airs roll call of Covid victims as UK death toll hits 100,000
Chiara Giordano27 January 2021 09:55
1611740871
Hospitals should vaccinate elderly and vulnerable inpatients, says top adviser
Hospitals should be vaccinating elderly and vulnerable inpatients, a Government immunisation adviser has said, after some NHS trusts refused to administer the Covid-19 jab.
Professor Anthony Harnden, of the Joint Committee on Vaccination and Immunisation (JCVI), said it was "absolutely essential" that hospital trusts vaccinated those most at risk of Covid-19 in their care.
The call comes after a Sky News investigation found evidence of hospitals telling the families of elderly non-Covid patients that they are only vaccinating outpatients, and not those staying overnight.
In one case, Maria Thompson was told by a staff member at St Helens and Knowsley NHS Trust that her 80-year-old mother would not be vaccinated during her stay for an autoimmune illness.
Chiara Giordano27 January 2021 09:47
1611739768
Chart plots rise of UK Covid deaths to 100,000
This graph from Statista shows the rate of Covid-19 deaths in the UK from March 2020 until 26 January as the nation's death toll topped 100,000.
Chiara Giordano27 January 2021 09:29
1611739479
Archbishop of Canterbury prays for PM and any 'regrets' over pandemic response
The Archbishop of Canterbury Justin Welby has said he prays for Boris Johnson and any "regrets" he has about the government's response to the pandemic.
He told BBC Breakfast: "I pray for our politicians each day, our political leaders, including the prime minister, because they're human, they're deeply, deeply human.
"There will be things they've got wrong, because they're human.
"Today is a day for solidarity and support, there will be inquiries in the future, that is quite right, but today is for solidarity.
"They will have regrets. I'd say to all of them, take it to God in prayer, confess it, and we have to move on and get the next decision right, and care for people better as a result."
Chiara Giordano27 January 2021 09:24
1611738217
Calls for long-term support for colleges
The government has been urged to provide long-term support for further education, amid warnings the coronavirus pandemic will put "further strain" on the sector.
Nearly half of all colleges are in financial special measures, according to the Public Accounts Committee (PAC).
Zoe Tidman explains more in this article:
Chiara Giordano27 January 2021 09:03
1611737067
Hotel quarantine system 'absolutely essential'
Asked about quarantine hotels, Linda Bauld, professor of public health at the University of Edinburgh, told BBC Breakfast: "I think it's difficult for us in the UK to think about a system like this but it's absolutely essential.
"If you look at the genomics work that's being done, looking at where the virus has come from – for example in the summer up here in Scotland, we got down to two cases on July 12, and tiny numbers in that month of July.
"And then as we headed into the late summer the genomic studies show us that we reimported the virus from overseas and from elsewhere in the UK into the country because of travel.
"And the overseas issue is something we can do something about, so adopting a model a bit like south-east Asian countries, Australia or New Zealand where we have quarantine that is not just voluntary like it is now, but supported quarantine – that will mean hotels for some people."
When asked about quarantining and whether the lack of such measures earlier had contributed to the current situation, she said: "I think it was a major factor."
Chiara Giordano27 January 2021 08:44
1611736511
'Legacy of poor decisions' has led to where we are now, says health expert
Linda Bauld, professor of public health at the University of Edinburgh, said a "legacy of poor decisions" around easing restrictions and travel, coupled with the new variant, have led to "where we are now".
She told BBC Breakfast: "Unfortunately the number of people dying is not going to decline quickly, and even then it will remain for a while at a really high rate so we're absolutely not out of it.
"I think where we are now is a legacy of poor decisions that were taken when we eased restrictions earlier in the year particularly around travel etc and then of course the variant has created extra pressure."
Chiara Giordano27 January 2021 08:35