Book an LGBTQIA-Friendly Hotel Through Orbitz and Receive Free Credit Towards a Future Hotel Stay
It's Pride Month! Orbitz is making sure that travelers know that they're welcome just the…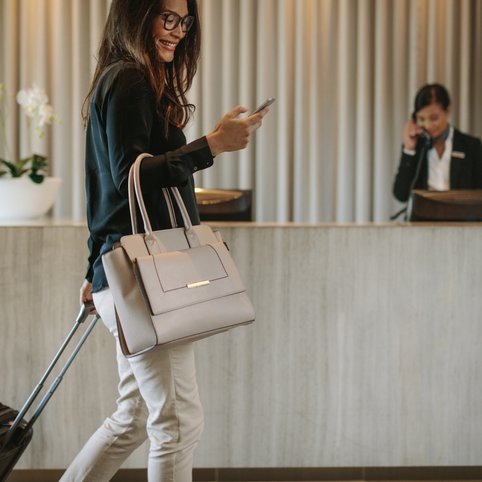 It's Pride Month! Orbitz is making sure that travelers know that they're welcome just the way they are.
The travel booking website now has a dedicated search engine to make it easier for travelers to find LGBTQIA-welcome hotels. The brand is also encouraging travelers to stay at LGBTQIA-welcome hotels and support LGBTQIA-owned businesses. For a limited time, Orbitz is offering Orbucks credits for future travel to those who support these hotels and businesses. Find out more about this exciting news.
Start your journey to financial success with a bang
Get free access to the select products we use to help us conquer our money goals. These fully-vetted picks could be the solution to help increase your credit score, to invest more profitably, to build an emergency fund, and much more.
By submitting your email address, you consent to us sending you money tips along with products and services that we think might interest you. You can unsubscribe at any time.
Please read our Privacy Statement and Terms & Conditions.
Orbitz encourages people to travel as they are
Orbitz commissioned a survey and found that 58% of LGBTQ+ Americans agree that they spend more time researching travel destinations and accommodations than cisgender or heterosexual travelers.
Committed to supporting all travelers, Orbitz is now making it easier to find and book LGBTQIA-welcome hotels.
They've highlighted properties that have agreed to a zero-tolerance policy for hateful, disrespectful, and discriminatory behavior from their staff. Many of these hotels have also committed to providing their staff with ongoing inclusivity training and education. It's easy to find these hotels through the company's new dedicated search engine.
But Orbitz also wants to do more. The brand wants to encourage travelers to support LGBTQIA-welcome hotels and queer-owned businesses. To do this, they're giving away free Orbucks credits, which can be used to book hotel properties through Orbitz. You may be able to earn free credits for a future vacation.
Here's how to earn free hotel credits
There are two ways to earn free Orbucks credits:
Reserve an LGBTQIA-friendly hotel: When booking a stay at an LGBTQIA-welcome hotel now through June 21st, you will receive $50 back in Orbucks. Orbucks are worth $1 USD each and can be used to book a future hotel stay through Orbitz. You must sign in or create an Orbitz account, and the hotel bookings must be a "Pay Now" property with a total price of $200+ (including taxes and fees).
Support a queer-owned business: When you support an LGBTQIA-owned business during June, you will be eligible to receive $100 in Orbucks. This offer is available for the first 500 people. You must have or create an Orbitz account.
You can view more information and rules and restrictions at Orbitz.com/Pride.
Ready to book a hotel stay? You can use the dedicated search engine to find these properties or perform a search and select "LGBTQ welcoming" under the traveler experience filters.
Orbitz is also choosing to donate to organizations that support LGBTQIA communities. This includes making donations to:
The Trevor Project
Trans Lifeline
IGLTA Foundation
Stonewall Community Foundation
Black Trans Travel Fund
Put your money to good use
You may want to think about supporting businesses that make an effort to be inclusive and supporting queer-owned businesses during Pride Month. Whether you're choosing to plan a vacation, make an online purchase, or visit a new business, you can think about the causes you support with your money. This is a simple way to make a difference.
Travel costs are currently high, so you may be wondering how to plan an affordable summer vacation. If you're about to book a hotel for an upcoming trip or have other travel plans that you're making, be sure to use a travel rewards credit card. This way, you're able to earn rewards on your spending. You can redeem your rewards for statement credit, gift cards, or travel.