Best Credit Cards for Online Shopping for November 2021
Table of Contents What type of rewards do you want to earn?Are you shopping with…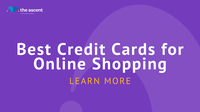 As with most things in life, there's no single credit card that will be the best for everyone. Many factors go into choosing the best credit card for anything, including online shopping.
Of course, before you can start comparing credit card options, you need to figure out exactly what you need — and want — out of a card. Here are a few questions that may give you a better idea of what your new card should offer.
What type of rewards do you want to earn?
For many folks, the best card for a given purchase is the one that provides the most rewards. Few cards offer bonus rewards for all eligible online purchases. In fact, we only have one: the Bank of America® Customized Cash Rewards credit card.
However, you can find several cards that offer bonus rewards for certain types of online purchases. This could be regular cards with bonus points or cash back. Or it may be co-branded store credit cards with retailer rewards.
The Amazon Prime Rewards Visa Signature Card, for instance, earns 5% cash back on Amazon purchases if you have a Prime account. The U.S. Bank Cash+™ Visa Signature® Card lets you choose your own 5% cash back categories from a list that includes department stores and electronics stores.
A flat-rate rewards card can be a simple way to get decent rewards no matter where you shop. They offer the same rewards rate on every purchase, online and off. Some of these cards offer as much as 2% cash rewards on purchases, including the Wells Fargo Active Cash℠ Card
Of course, you should consider more than how many rewards you'll earn. You should also think about the type of rewards you'll earn.
A cash rewards credit card typically has the simplest rewards to use. You can redeem them for a statement credit and call it a day. Cards that earn rewards points can be more complicated. The value you get out of your points will depend entirely on how you redeem them.
For example, redeeming rewards points for cash often gives you a low per-point value. Some travel rewards programs offer less than $0.01 per point for cash or gift card redemptions.
On the other hand, the best travel rewards credit cards earn points that can be transferred to an airline or hotel loyalty program. This can provide a per-point redemption value of $0.01 all the way up to $0.04 or even more.
Are you shopping with an international website?
Shopping online opens a world of commerce. With a few clicks, you can buy shortbread straight from Scotland. But there's a downside to this, too: foreign transaction fees.
When you make an online purchase in a foreign currency or that routes through a foreign bank, your credit card issuer may charge you an extra fee. This is called a foreign transaction fee, or FX fee. These fees can be 3% to 5% of your transaction amount.
The best way to avoid foreign transaction fees is to use a credit card that doesn't charge them. Travel cards are the least likely to charge FX fees. Discover and Capital One also forego FX fees on their credit cards.
Do you need purchase protection or extended warranty coverage?
In general, purchase protection is like short-term insurance for things you buy with your card. While specifics vary by policy, most offer at least 60 days of coverage against accidental damage or theft. If your purchase is stolen within the protection window, you can get a full refund from your card issuer.
Another useful credit card benefit is extended warranty coverage. This perk can double the manufacturer's warranty for eligible purchases. Think of it as a way to skip out on pricey store warranties without forking over extra cash.
Unfortunately, benefits like these are becoming rarer every year. Premium cards with high annual fees are the most likely to offer them. For example, American Express purchase protection is only available on Amex cards with an annual fee. However, Chase purchase protection is offered on most Chase cards.
Can you pay your balance in full?
One of the key tenets of smart credit card use is to always pay off your card in full before the due date. This is the best way to avoid pricey interest fees. The best way — but not the only way.
If you're making a large online purchase, you may want more time to pay it off than a single billing cycle. With a 0% intro APR credit card, you can have 12 months or more to pay off your purchase without being charged interest.
These cards offer a reduced interest rate for the length of the introductory period. While you still have to make at least your minimum payment every month, you don't have to worry about accruing interest during that time.
Although choosing the right card is important, how you use your card may be just as important. Using the right card the wrong way can negate its strengths.
1. Stay up to date on your card's offerings
Many types of credit cards have rewards that can vary from time to time. This is especially relevant for cards with rotating or choose-your-own rewards structures.
For example, several popular rewards credit cards have bonus categories that change every quarter. While it may have been the best card for certain online purchases last month, that may not be the case this month. You'll also need to stay on top of your activations. If you fail to activate your bonus rewards, you may miss out on them entirely.
Another thing to keep track of is any rewards limits. Many high-value rewards cards have caps on how many bonus rewards you can earn. If your card only earns bonus rewards on $1,500 in bonus purchases per quarter, then using it beyond that may be a waste.
Even if your card doesn't typically change up its rewards, it can be worthwhile to check up on any special offers. It's not uncommon for rewards cards to have limited-time bonus categories appear from time to time.
2. Check the issuer portals for deals
Another place to find great rewards deals is in issuer shopping portals. The Amex Offers & Benefits portal, for instance, frequently has bonus rewards offers for partner retailers. This can give you extra points per dollar or for spending a certain amount.
Other portals may just give you a flat-rate discount. Chase cardholders can add discounts for partner retailers for things like 5% off your purchase.
Most of the time, you simply click a button to add the deal to your card. Then it is applied automatically when you use your card on an eligible purchase. Other times, you may need to use a provided link to make your purchase.
3. Work towards sign-up bonuses
Credit card sign-up bonuses are the cornerstone of a good rewards strategy. The right bonus can be worth hundreds to thousands of dollars. The catch? You typically need to meet a minimum spending requirement on your new card within a set time period.
Given the lucrative nature of sign-up bonuses, there are cases where working towards a sign-up bonus is better than using the card with the highest rewards rate. It can be well worth it to lose out on 50 bonus points to earn a 10,000-point welcome bonus.
How to be safe when using a credit card online
Using a credit card online can be a lot riskier than when you use it in person. Once you input your credit card data, it's out of your hands. And it's all too easy to be lured in by a fake website or other online scam.
On the plus side, your credit card offers a lot of built-in security. For one thing, your liability for fraudulent credit card charges is limited by law. If your credit card information — but not your physical card — is used to make unauthorized purchases, you aren't on the hook at all. (With a debit card, you need to report the fraudulent charges within 60 days of receiving your statement to avoid liability.)
That said, it can be a pain to cancel a card and deal with fraud claims. Following a few common-sense measures can go a long way toward protecting your card information while shopping online.
Make sure you only buy from trusted retailers. Stick to websites that you know are secure. Most browsers will display a little lock icon near the web address to signify a secure website. If something seems fishy, trust your instincts and don't enter your card information.
Be careful following email links. Email scams are popular. It's much safer to go directly to a retailer's site in your browser, rather than using a link from your email.
Don't give out account details. Unless you're using an issuer shopping portal, you don't need to be logged into your credit card account to shop online. If a retailer asks you to provide credit card login details, that's a big red flag!
Consider virtual cards. Some card issuers offer virtual credit cards. These are basically temporary card numbers that are only usable for a single purchase. This way, you don't need to use your real card number. Virtual cards can offer an extra layer of security for questionable online retailers.
Just like shopping in person, always keep your receipts when shopping online. This can make it easier to address any issues that may arise. Always double check your credit card statements. Keep an eye out for any purchases that aren't familiar, and report anything suspicious to your issuer right away.