Before You Take a Mega-Vacation This Summer, Ask Yourself These 3 Questions
Itching to travel after a year of lockdown? Tackle these important points before you make…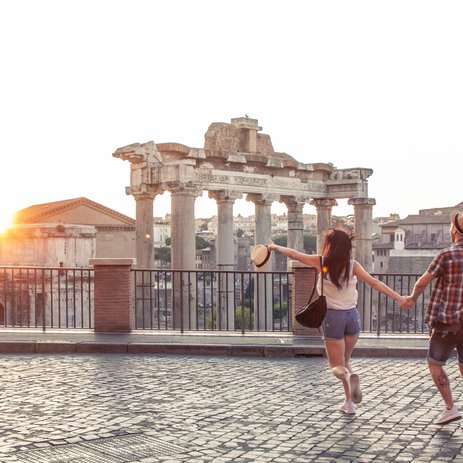 Itching to travel after a year of lockdown? Tackle these important points before you make your plans.
Though travel wasn't officially off the table during the summer of 2020, a lot of people opted to stay close to home or put major plans on pause due to both economic and coronavirus-related concerns. But the summer of 2021 is gearing up to be very different.
Not only has a large percentage of the U.S. public been vaccinated against COVID-19 thus far, but the economy is in a more stable place than it was a year ago. As such, you may be in the process of mapping out a huge vacation this summer to compensate for last summer's lack of travel. But before you finalize your plans, ask yourself these key questions.
Start your journey to financial success with a bang
Get free access to the select products we use to help us conquer our money goals. These fully-vetted picks could be the solution to help increase your credit score, to invest more profitably, to build an emergency fund, and much more.
By submitting your email address, you consent to us sending you money tips along with products and services that we think might interest you. You can unsubscribe at any time.
Please read our Privacy Statement and Terms & Conditions.
1. Can I afford it?
Many Americans have been dealing with income loss in the course of the pandemic. Others incurred extra expenses, like childcare costs, when their circumstances changed. If you've been impacted financially by the events of the past year, then you may not be in the strongest position to take a big trip — and the last thing you should do is rack up serious debt in the course of getting away.
Before you commit to a costly vacation, crunch some numbers to see how much you can afford to spend. And try not to dip into your emergency fund to pay for a trip. That money should be reserved for unplanned expenses only.
2. Am I getting a good deal?
Summer is a popular time to travel — it's when the weather is warm and school's not in session. But because so many people book trips during the summer, prices can easily get inflated, and you may end up spending a lot more by virtue of traveling at a peak time.
Before you firm up plans to take a summer trip, ask yourself if you have the option to get away at a different point during the year and if doing so will save you money. If you don't have school-aged kids, for example, you can travel for two weeks in October without academic repercussions. If that's the case, you may want to postpone a summer trip to the fall if doing so saves you hundreds or even thousands of dollars.
3. Am I using the right credit cards to book my plans?
Putting your hotels, flights, and rental car on the right credit card could result in serious cash back — money you can use to pay for extras or offset the cost of booking it. In fact, if you don't already have a travel rewards card, it pays to apply for one before solidifying your plans. You may find that by using one of these cards, you'll enjoy cost-saving perks like discounted reservations and free checked baggage on flights.
Many people are excited to get away this summer, and if you haven't left your neighborhood much over the past year, you may be looking at an extended getaway. But before you take that mega-trip, make sure you can swing it financially, you're traveling at the right time, and you're charging your expenses on the best credit card. The last thing you want to do is sink tons of effort and money into your trip, only to realize you made some sort of major mistake along the way.