American Express Travel Insurance Benefits [2021 Guide]
Most American Express credit cards come with complimentary travel protections. The exact types of American…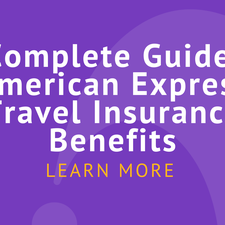 Most American Express credit cards come with complimentary travel protections. The exact types of American Express travel insurance depend on the card. This guide will go over each travel insurance benefit you can get with your Amex card. You'll learn how these protections work, what they do and don't cover, and which benefit each current American Express consumer card will provide.
Baggage insurance plan
A lot of the best credit card offers include baggage insurance. American Express is no exception. You can make a claim if anything happens to your checked or carry-on luggage.
What is covered
American Express baggage insurance covers luggage that is lost, stolen, or damaged while traveling on a common carrier. According to American Express, a common carrier is an air, land, or water vehicle licensed to carry passengers for hire and available to the public. It doesn't include personal or rental vehicles.
For the baggage insurance plan to apply, you must pay the full fare with your American Express card or American Express rewards points. It covers the cardmember, their spouse/domestic partner, and dependent children under 23 years of age.
What's not covered
Several items are excluded. These include cash, travel documents, living plants, perishable items, eyeglasses, and property shipped as freight. There are also certain circumstances that aren't included in baggage insurance. For example, acts by customs or government authorities, normal wear and tear, and illegal activity by the cardmember.
Review your card's guide to benefits for a full list of everything that's not covered under its baggage insurance plan. Terms apply for all the cards in the below table.
Eligible cards