American Express Platinum Cardholders Can Get $180 in PayPal Credits
This American Express benefit is an easy way to save money, but only if you…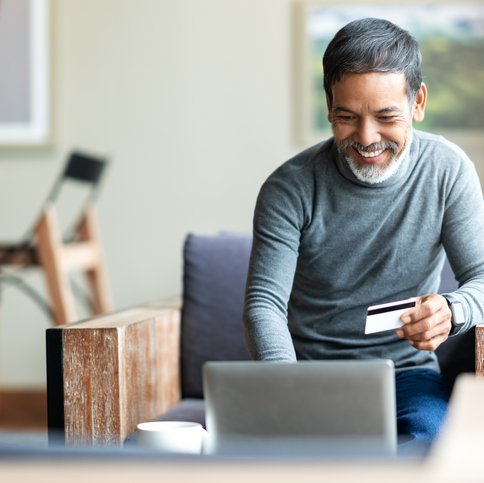 This American Express benefit is an easy way to save money, but only if you know how to use it.
The Platinum Card® from American Express has an impressive list of perks, but many of them are travel perks. Since those have been more difficult to use during the COVID-19 pandemic, American Express has added other types of limited-time features. One of the latest is PayPal spending credits — and it may be the best perk yet.
From January through June 30, 2021, the The Platinum Card® from American Express offers $30 per month in PayPal credits — totaling $180. If you're a cardholder, using these credits is a must. They'll help you get value from your American Express card even if you don't plan to travel this year.
How the American Express Platinum's PayPal credits work
The $30 credits automatically apply to PayPal purchases you make with your American Express Platinum Card. If you haven't already, you'll need to link your card to your PayPal account. Here's how:
Log in to your PayPal account.
Go to the Banks and Cards page. You can find this by going to your account settings or your PayPal wallet.
Choose the option to link a new card.
Enter the information for your American Express Platinum Card. You can also set it as your preferred payment method if you'd like it to be your default payment option.
To use your PayPal credits, select the PayPal Checkout option at merchants that offer it. Note that only purchases made in U.S. dollars with U.S. merchants will qualify. You can't get a credit on person-to-person payments, purchases with international merchants, or purchases in other currencies.
The good news is that a lot of U.S. merchants offer PayPal Checkout on their websites. Here are some examples of popular online merchants with this payment option:
Walmart
Target
Best Buy
eBay
Apple
Home Depot
Bed Bath & Beyond
Grubhub
If a merchant offers PayPal Checkout, it will be available during the checkout process. Select that option, and you'll be prompted to log in to your PayPal account to complete the order. Make sure your American Express Platinum Card is selected as the payment method. You need to use it to receive your credit.
American Express recommends waiting up to 12 weeks to receive PayPal credits on eligible purchases. However, it rarely takes this long. Most cardholders receive their credits in a matter of days.
Making the most of your American Express Platinum Card
Considering the American Express Platinum Card has a $550 annual fee, it's important to cash in its spending credits. You'll shave a total of $180 off the card's cost just by taking advantage of this PayPal perk for each month that it's available.
In addition, there are a few other spending credits you shouldn't forget to use:
Up to $200 in annual Uber credits: The American Express Platinum Card offers $15 per month in Uber credits, plus $20 extra every December. You can use these for Uber rides or Uber Eats orders.
Up to $100 in annual Saks Fifth Avenue credits: In stores or on saks.com, you can get $50 in spending credits from January through June and another $50 from July through December.
Up to $100 Global Entry/TSA PreCheck credit: You can get a $100 credit every four years for a Global Entry membership or an $85 credit every four-and-a-half years for a TSA PreCheck membership. Global Entry is the better choice since it includes TSA PreCheck.
This is one of the best American Express cards, and those are only its spending credits. It also offers flexible travel points, elite status with multiple hotels, and outstanding airport lounge access.
Assuming you use the card's Uber and Saks Fifth Avenue credits, that's $300. Combined with the $180 in PayPal credits, you'd save $480 total. That brings your card's true cost this year down to just $70.
There's no overstating what a deal that is. The American Express Platinum Card has more travel and shopping benefits than almost any other top credit card. At $70, it's a steal.