After Southwest Cancellations, Will U.S. Lawmakers Make Airlines Reimburse Travelers for Delays?
Image source: Getty Images Federal law currently has few financial protections for flight delays. Key…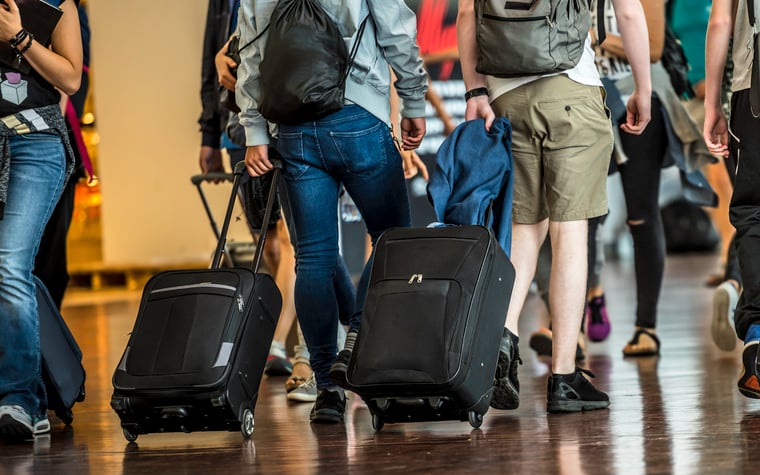 Federal law currently has few financial protections for flight delays.
---
Key points
U.S. air passengers are only entitled to refunds in select situations, which include cancellations and significant delays.
Lawmakers have brought up the idea of better protections after widespread flight cancellations with Southwest Airlines.
The European Union has more protections, including air passenger rights that can entitle passengers to up to 600 euros for delays of three hours or more.
---
Southwest Airlines is in the midst of what's being described as a meltdown. In one week, it has had to cancel over 15,000 flights.
Winter storms hit airlines hard, affecting thousands of holiday flights. However, while most carriers have been able to get back on track, Southwest's situation has gotten worse. On Wednesday, 86% of all canceled flights in the United States were operated by Southwest.
One potential cause is Southwest's point-to-point model. Unlike most airlines, Southwest doesn't have its planes return to central hubs between destinations. But Casey Murray, president of the Southwest Airlines Pilot Association, told NPR it's because the airline is using outdated technology and procedures. With many travelers still stranded, lawmakers are speaking out about compensation for passengers.
Discover: This card has one of the longest intro 0% interest periods around
More: Consolidate debt with one of these top-rated balance transfer credit cards
Will U.S. lawmakers make airlines reimburse travelers for delays?
Right now, U.S. air passengers don't have much in the way of legal protections. If a flight is delayed, airlines aren't required to provide any financial compensation. Airlines also aren't required to provide compensation if they cancel a flight and rebook passengers on another one.
There are a few situations where you can at least get a refund. If your flight is canceled and you decide to cancel your trip, then you're entitled to a full refund. The U.S. Department of Transportation (DOT) also says you may be entitled to a refund for a significant delay. It hasn't defined what a significant delay is, though, and instead decides this on a case-by-case basis.
Transportation Secretary Pete Buttigieg has pledged to hold Southwest accountable and make sure the carrier both pays for affected travelers' expenses and refunds them. Senator Maria Cantwell released a statement where she said that "Consumers deserve strong protections, including an updated consumer refund rule."
An updated refund rule would be a good start. But it'd be even better for travelers if lawmakers went a step further and required airlines to compensate passengers for flight issues. For an example of how this could work, we can look at the European Union (EU), where passengers receive substantial compensation for flight delays.
How flight delay compensation works abroad
When you're used to U.S. air travel, the rules in Europe are a breath of fresh air. The 27 countries making up the EU have specific air passenger rights that airlines must follow. These rights apply to:
Flights within the EU
Flights that arrive to the EU from outside it and that are operated by an EU airline
Flights that depart from the EU to a non-EU country
For example, a flight from France to Germany would qualify, because that's within the EU. A flight from Italy to the United States would also qualify, because it's departing from the EU. A flight from the United States to the EU would only qualify if you're flying on an EU airline and not a U.S. carrier.
If your flight is delayed in the EU, you have the right to assistance, a return flight, and possibly reimbursement. The airline is required to reimburse you if you reach your final destination with a delay of three hours or more that's not due to extraordinary circumstances. The compensation amount depends on the distance traveled:
| Compensation | Distance |
| --- | --- |
| 250 euros | 1,500 km or less |
| 400 euros | Over 1,500 km for flights within the EU; between 1,500 km and 3,500 km for all other flights |
| 600 euros | Over 3,500 km |
Data source: Your Europe.
Dealing with issues at the airport
Unfortunately, the United States is probably a long way from considering compensation for delayed passengers. That doesn't mean you're entirely out of luck, though.
There are certain situations where you have the right to a refund, even if you bought a nonrefundable ticket. If the airline cancels and rebooks your flight, and you'd prefer to cancel, you have the right to a refund. This is also the case if you want to cancel due to a significant flight delay. In these situations, if the airline doesn't want to provide your refund, you can file a complaint with the DOT. Although, as mentioned earlier, the DOT decides if a delay is significant.
The major U.S. air carriers have made commitments for how they'll help passengers if there's a controllable delay or cancellation. An airline may provide meals, hotel accommodations, and ground transportation, depending on its policy in this regard. Information on the commitments airlines have made is available on the DOT's airline customer service dashboard.
Last but not least, there are travel credit cards that have travel insurance. You typically need to purchase your airfare with your credit card for this type of protection to apply. This is a great way to get trip protection free of charge. If you don't have any credit cards with this benefit, or you just want a more comprehensive policy, you can purchase a travel insurance policy before your trip.
Top credit card wipes out interest until 2024
If you have credit card debt, transferring it to this top balance transfer card secures you a 0% intro APR for up to 21 months! Plus, you'll pay no annual fee. Those are just a few reasons why our experts rate this card as a top pick to help get control of your debt. Read our full review for free and apply in just 2 minutes.