9 Things to Do After Getting the Amex Platinum Card
The top American Express card has a laundry list of perks. This to-do list will…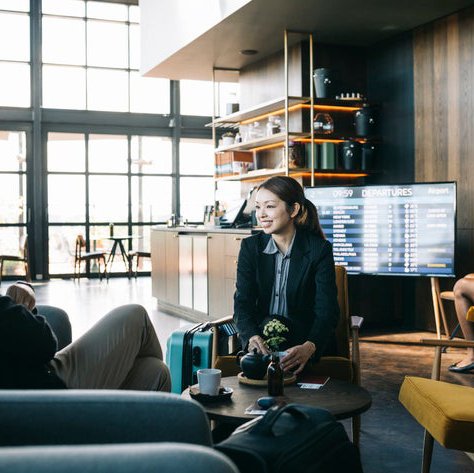 The top American Express card has a laundry list of perks. This to-do list will help you maximize your card's value.
Credit cards don't get much more feature-packed than The Platinum Card® from American Express. For a $550 annual fee, it offers a wide range of travel and shopping benefits. Perhaps the biggest challenge with this card is using all those features.
If you just opened The Platinum Card® from American Express, you likely want to get the most out of it. And since some of its benefits are time-sensitive, you can miss out if you forget to use them. Here's a full list of what to do with your new card.
1. Make it your go-to card for gas and groceries
As part of its welcome offer, The Platinum Card® from American Express earns 10 points per $1 on U.S. gas station and supermarket purchases for the first six months, up to a $15,000 spending cap.
That's an extremely high rate you hardly ever see, even among the best credit cards, and it's smart to take full advantage. Whenever you're getting gas or grocery shopping, you should use your American Express card.
2. Use it for at least $30 in PayPal spending per month
Through June 30, 2021, The Platinum Card® from American Express offers a $30 monthly PayPal credit. You can use this credit with any online retailer that offers PayPal as a checkout option.
This is an easy way to save $30 per month, because many online retailers accept PayPal. Link your new card to your PayPal account right away so you can start getting your credit. Keep in mind that the credit doesn't work with person-to-person payments, so you won't get $30 back on those types of transactions.
3. Add it to your Uber account
There are up to $200 in annual credits with Uber available with this card. You get $15 per month with a $20 bonus in December. Those credits apply to both Uber rides and Uber Eats orders. If you're a frequent Uber customer, you can score big savings when you maximize The Platinum Card® from American Express Uber credits.
After you add the card to your Uber account, it also gets you Uber VIP status. There aren't many benefits to this at the moment, though, unless you live in one of the limited number of cities with Uber VIP. With this feature, you'll be matched with VIP drivers, meaning those with the best ratings and high-quality cars.
4. Choose an airline for your $200 airline incidentals credit
Another part of The Platinum Card® from American Express travel benefits is up to $200 in annual credits toward incidental airline fees with one airline. To get this credit, you need to select an airline online at americanexpress.com/airlinechoice.
Airline incidental fees unfortunately don't include tickets. Instead, this credit applies to extra fees that airlines charge. Examples of what's covered include checked baggage, change fees, airport lounge passes, and in-flight entertainment (but not in-flight internet, because the airline isn't the provider).
5. Sign up for Global Entry
A Global Entry membership is free with this card. You get a $100 credit every four years toward your membership fee, so you can use that to either sign up or pay for your next renewal fee, if you're already a member.
There's also the option of a TSA Precheck credit, but of the two, Global Entry is the obvious choice. When you sign up for Global Entry, you also get a TSA Precheck membership. Then, you'll be able to both get through TSA security lanes faster through TSA Precheck and re-enter the United States more quickly through Global Entry. If you signed up for TSA Precheck, you'd only get that membership.
There are still more spending credits to use. The Platinum Card® from American Express offers $100 in annual Saks Fifth Avenue credits: $50 from January through June and $50 from July through December. You can get this credit shopping in stores or on purchases made through the retailer's website.
7. Get your complimentary Gold Status with Hilton and Marriott
Hilton Honors Gold status and Marriott Bonvoy Gold Elite Status are free when you have The Platinum Card® from American Express. These elite status tiers include several perks, including bonus points on bookings, late checkout when available, and room upgrades when available.
To use this benefit, you need to provide American Express with your account numbers in the Hilton Honors and Marriott Bonvoy programs. You can do so either online through the benefits page of your American Express account or by calling the number on the back of your credit card. If you don't have an account with either loyalty program, you'll need to sign up first. You can do that on each hotel's website.
8. Spend at least $5,000 in the first six months
The Platinum Card® from American Express has a welcome bonus of 75,000 points, one of the biggest offers available with American Express cards. To get it, you need to spend $5,000 on qualifying purchases in the first six months. That shouldn't be too hard if you use the card for your regular expenses. Just make sure you reach that spending requirement so you don't lose the opportunity to score bonus points.
9. Request your Priority Pass membership card
One of the highlights of this card is its airport lounge access. The Platinum Card® from American Express lounge access gets you into:
American Express Centurion® lounges
Delta Sky Club® lounges
Priority Pass lounges
You can access the first two types of lounges by presenting your card (and a boarding pass for same-day travel). But you'll need a Priority Pass membership card to enter those lounges. Register for your Priority Pass membership either on the benefits page of your American Express account or by calling American Express.
The Platinum Card® from American Express is one of those travel credit cards that provides spectacular value if you take advantage of what it offers. By checking off all the items on the list above, you'll get your card's limited-time benefits, collect its welcome bonus, and be ready to use its travel perks the next time you go on a trip.