5 Travel Credit Card Predictions for 2023
Image source: Getty Images The game where everything is made up (but the points matter)….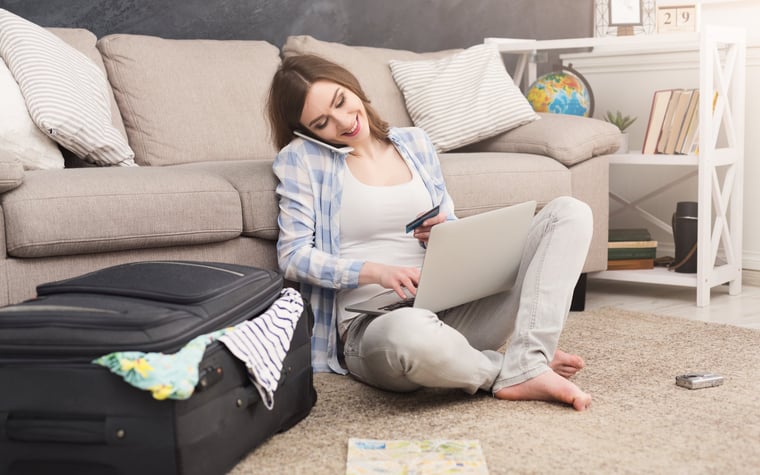 The game where everything is made up (but the points matter).
---
Key points
Amex has already announced changes to its airport lounge program, but I think 2023 will see even more changes as companies battle high demand.
Rumors (and hope) lead me to believe we'll see some really interesting new cards come out next year, especially in the travel rewards space.
---
There's been a lot of turbulence in the proverbial skies for the travel industry the last few years, from the low lows of lockdowns — to the differently low lows of the mass return to travel.
When all is said and done, though, I think it's fair to say the travel credit card issuers have ridden that roller coaster fairly well. From temporary changes that let us use our travel rewards on everyday necessities to permanent changes that boosted the value of popular cards, there have been a lot of interesting (and arguably positive) changes to travel cards lately.
Will 2023 be another positive year for travel rewards? Or will the travel boom lead to devaluations now that issuers don't need to appease travel-less travel cardholders? Here are my thoughts.
Discover: This card has one of the longest intro 0% interest periods around
More: Consolidate debt with one of these top-rated balance transfer credit cards
1. New waves of lounge limits
If you've tried to go to an airport lounge in a hub city recently (or just scrolled the travel rewards subreddits) then you know there has been a big problem with overcrowding lately. Even the once-exclusive Centurion lounges are now full of cardholders — and their families.
American Express announced its plan to deal with the issue earlier in 2022: Eliminate the free guest passes for Platinum cardholders. This new rule kicks in just a month into 2023. (Terms apply.)
While American Express is the only one to announce this kind of huge change to its airport lounge access, I think it'll only be the first of many. In particular, I think we can expect to see some really serious changes to the Priority Pass programs that most high-end travel cards offer their users.
2. Platinum card tweaks
Speaking of the The Platinum Card® from American Express — I think 2023 will see more changes than just the lounge guest passes getting cut. It's whether those changes will be good or bad that I'm not decided.
There's been a lot of talk about yet another The Platinum Card® from American Express annual fee hike. Even American Express's CEO hasn't ruled out annual fee increases. And let's face it — why wouldn't the company increase the fee? The last jump was more than $100 and its cardholder base has done nothing but increase.
So long as it keeps tacking on additional credits and perks that give people at least the illusion of value, American Express can probably get away with cranking up that annual fee, too. For the folks in that target demographic, the card really can pay for itself.
3. More streaming partnerships
One of the more interesting trends we saw in 2022 was various cards and programs partnering with streaming platforms. American Express has multiple cards that now offer credits for getting the Disney Bundle. (Terms apply.) Even Walmart+ now offers free Paramount+.
The majority of people have at least one streaming service these days, so it makes perfect sense to bundle those services as perks on credit cards. And it's probably not a bad deal for the streaming platforms, either.
American Express seems to have the lock on Disney/Hulu, but there are a lot of services left to claim. Whoever picks up a deal to offer credits for Netflix could potentially do really well. Maybe the rumored new Citi card (that we'll talk about below)?
4. Chase Reserve upgrade
I think we've been talking about the Chase Sapphire Reserve® getting a much-needed refresh for a few years now, but I'm ever hopeful that it will happen. Maybe 2023 is finally that year.
The card was the go-to travel card for a good period of time, but has since been overshadowed by competitors — including its own lower-cost sibling, the Chase Sapphire Preferred® Card. Since the Reserve saw its fee hike, it's simply not as valuable.
We've seen a bit of an attempt at making the card more appealing, such as with the new Instacart credits and the longstanding DoorDash partnership. But Chase needs to bust out something much more interesting than a grocery delivery credit to bring this card back to life.
5. New Citi travel card
If there's one card we've all been anxiously awaiting, it's whatever Citi comes up with to replace the long-defunct Citi Prestige® Card.
Right now, there's only the mid-tier Citi Premier® Card anchoring its travel rewards program. But as strong as the Premier is for some folks, it's simply not enough to make the ThankYou rewards program truly competitive.
What the Citi Prestige® Card had — and the Citi Premier® Card shares — that set it apart was a focus on high-value bonus rewards categories. And with the competition trending toward credits, rather than bonus rewards, there may be room for Citi to steal some market share with a rewards-forward card. The right combination of rewards categories, with a few perks to keep up appearances, could make for a stand-out card.
The outlook is unclear
Given the way the last few years have gone, it's folly to think we can accurately predict, well, anything. (If 2020 taught us nothing else, we learned that this really is the weirdest timeline.) My thoughts on the coming year of credit cards are based as much on my own worries and hopes as they are on rumors and evidence. Here's my hearty wish for a happy new year full of new cards, lower fees, and better rewards!
Top credit card wipes out interest until 2024
If you have credit card debt, transferring it to this top balance transfer card secures you a 0% intro APR for up to 21 months! Plus, you'll pay no annual fee. Those are just a few reasons why our experts rate this card as a top pick to help get control of your debt. Read our full review for free and apply in just 2 minutes.