4 Ways to Protect Yourself for the Next Airline Meltdown
Image source: Getty Images Southwest's recent meltdown should serve as a warning for all travelers….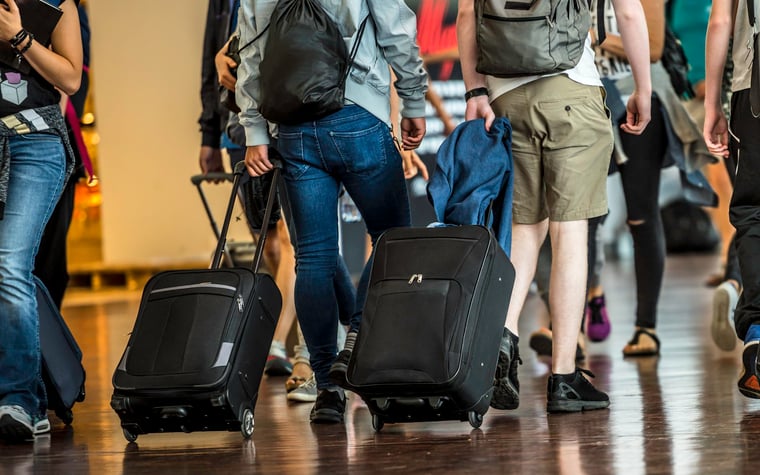 Southwest's recent meltdown should serve as a warning for all travelers.
---
Key points
Southwest canceled thousands of flights around the holidays.
Many people were left stranded, some without their luggage.
Travelers can protect themselves by putting the right protections in place, like lost luggage insurance, and by booking through their credit card's travel portal.
---
If you've seen the news at all in recent days, chances are good you know that Southwest Airlines had a major meltdown. The airline canceled more than 2,500 flights over the course of around a week after cities with two of the airline's biggest hubs were hit by winter storms and the airline saw a surge of workers call out sick due to illness. 
Since this catastrophe occurred over the holidays during one of the busiest travel times of the year, many passengers were left stranded — some without their luggage and many with no easy options to get to their destination.
While Southwest's meltdown was unprecedented and is being investigated by the Biden administration, it's part of a long series of travel mishaps that have happened in recent months as airlines struggle to cope with labor issues and getting back up to full capacity after travel slowdowns prompted by COVID-19.
Discover: This card has one of the longest intro 0% interest periods around
More: Consolidate debt with one of these top-rated balance transfer credit cards
If you want to make sure you're prepared for the next major airline meltdown, these four steps could be just the ticket to help ensure you don't end up with your travel plans in disarray.  
1. Invest in trip interruption and/or trip delay coverage 
Trip interruption and/or trip delay insurance can be invaluable when things don't go as expected. These types of insurance policies can pay for food during a delay or can help you cover other costs if a trip is interrupted or canceled. 
You can buy these coverages separately, but many good travel credit cards offer them as membership perks. If you don't have a travel card, it's worth looking for one that provides these benefits so you can get important protection in place without spending extra money every time you go on vacation. 
2. Be sure you have lost luggage insurance
Southwest ended up separating many people from their luggage, leaving them without basic essentials. Baggage insurance or lost luggage insurance could help you cover the costs of the necessities if you don't have your stuff with you due to an airline mix-up.
Again, you can buy a baggage insurance policy from a third party — but you're likely better off looking for a credit card that offers this coverage as a free perk just for booking and paying for the trip on the credit card. 
3. Bring a good travel credit card along
You have certain rights when your trip is canceled or your plane is delayed for a long time due to an issue with an airline. Specifically, you may be entitled to a refund for your travel expenses and potentially for meal and hotel costs incurred due to the delays. 
You'll still have to pay for these costs upfront, though, before trying to pursue a refund. So, be sure to bring a good travel card with you that has some credit available. You can book your hotel room or pay for your meals, get points or rewards for them, and have an easy way to keep track of what you spent when you seek reimbursement. 
You also won't have to drain your wallet to cover these expenses — or be left unable to pay for them if you don't have enough cash or credit available.
4. Book through a travel portal
Finally, consider booking your trips through a travel portal offered by your credit card issuer, as you may be offered some extra help by your credit card company if you have a problem. 
And if you have to book lodging or a new flight on an emergency basis due to unexpected delays or a trip cancellation, you may be able to get special perks — such as early check-in — that could be offered only to people who shop through the portal. 
Taking these four steps can help you ensure that if the worst happens with your plans, you have the most protections in place to deal with a bad situation. 
Top credit card wipes out interest until 2024
If you have credit card debt, transferring it to this top balance transfer card secures you a 0% intro APR for up to 21 months! Plus, you'll pay no annual fee. Those are just a few reasons why our experts rate this card as a top pick to help get control of your debt. Read our full review for free and apply in just 2 minutes.