4 Credit Card Offers to Save Money on Your Holiday Travels
Traveling during the holidays can get expensive. The right credit card offer could be your…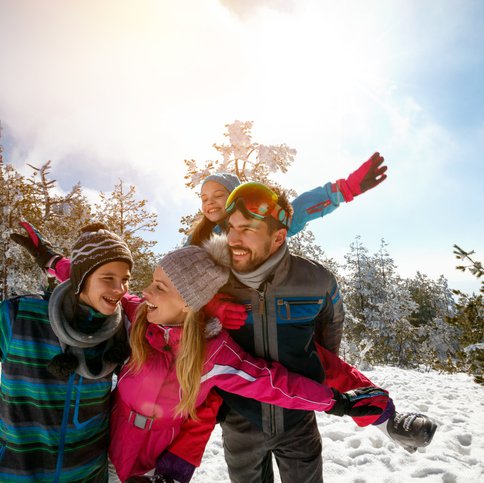 Traveling during the holidays can get expensive. The right credit card offer could be your ticket to big savings.
It's not easy to book a trip over the holidays. Airfare and accommodations go fast due to increased demand. You also have to strike a balance between booking a trip you'll enjoy and a price you can afford.
Fortunately, there are plenty of credit cards that can get you a travel discount right now. You could pick up a new card to save money on a holiday vacation, or you may find that you already have a card with a travel offer. Here are four of the best credit card travel offers currently available.
1. 100,000 Venture miles (worth $1,000 toward travel) with the Capital One® Venture® Rewards Credit Card
In terms of value, it's nearly impossible to top the Capital One® Venture® Rewards Credit Card. For a limited time, it's offering a sign-up bonus of 100,000 miles. New cardholders get 50,000 miles for spending $3,000 on purchases within three months, plus 50,000 more for spending $20,000 within 12 months.
Capital One Venture Miles are worth $0.01 per point toward any travel purchases, giving this bonus a value of $1,000. You can also transfer miles to Capital One's travel partners.
You might be wondering how this bonus can save you money on holiday travels next month. After all, it will probably take you until 2021 to reach either of those spending minimums and get any bonus miles. The great thing about Venture Miles is that you can apply them to previous travel purchases made within the last 90 days. You should at least get 50,000 bonus miles in time to put them toward $500 in holiday travel purchases. And if you have high spending, you could get the other 50,000 miles early enough to cover this season's travel expenses as well.
2. $75 to $150 off hotel stays with American Express Membership Rewards cards
There are several travel savings opportunities from American Express. Two of the top offers are for substantial discounts on hotel stays:
Eligible enrolled card members with any Membership Rewards card can get $75 back at participating Marriott Bonvoy properties after spending at least $250 on room rates and room charges through Dec. 31, 2020.
Eligible enrolled card members with The Platinum Card® from American Express can get $150 back after spending at least $800 (in one or more transactions) on a prepaid Fine Hotels and Resorts® booking made through AmexTravel.com by Dec. 7, 2020.
To see if you're eligible and enroll in offers, check the Amex Offers & Benefits section of your online American Express account.
3. Complimentary fourth night on hotel stays with the Citi Prestige® Card
The Citi Prestige® Card has one of the most valuable hotel perks on the market. When you book a hotel stay of at least four consecutive nights through ThankYou.com using the card, the fourth night is free. This benefit is available twice per calendar year for any hotel you can book through the ThankYou® Rewards site.
If you plan to stay at a hotel on a holiday trip, the Citi Prestige® Card can save you quite a bit of money. Since this is Citi's most luxurious travel card, it does come with a $495 annual fee. It also has all kinds of travel perks, though. In addition to the hotel savings we've already covered, it offers a $250 annual credit toward travel purchases, airport lounge access, and a Global Entry/TSA PreCheck credit.
4. Free checked luggage with airline credit cards
Traveling light can be tough during the holidays. If you're visiting friends or family, you may want to bring along gifts. And nobody wants to worry about what's going to fit in their carry-on while souvenir shopping.
The problem is that checked luggage isn't cheap. One checked bag usually costs $30 to $40 each way, depending on the airline. That's an extra $60 to $80 roundtrip, and double that if you're flying with someone else who has a bag to check.
Airline credit cards are a simple way around this. Most airlines offer at least one credit card that includes a free checked bag for the cardholder and one or more travel companions. Here are some card options with the major U.S. airlines:
Cutting your holiday travel expenses
Travel credit cards are one of the best ways to save money on a holiday vacation. Many include special bonuses or discount offers, like the ones listed above, to cut costs on airfare or hotel stays. And of course, you can also use any travel rewards points you have available to book your trip.